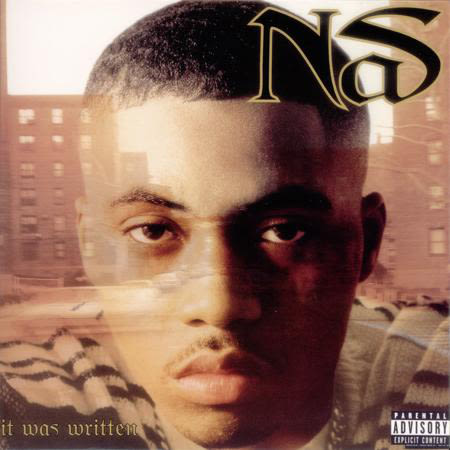 Ninety-six percent of the time, Nasir Jones is my favorite MC to ever touch a microphone. While many, including me, hail his landmark debut Illmatic as the greatest rap album of all-time and thus, his best work, his follow-up is my favorite of his legendary catalogue for a bevy of reasons. Released 20 years ago, It Was Written, propelled him to superstardom and cemented his now revered career.
It established him as a New York King in a time where platinum-selling, Bed-Stuy bred Notorious B.I.G. and an up an coming rapper from Marcy Projects, better known as Jay Z were all fighting for the top spot in the Mecca of Hip-Hop. It Was Written did what Illmatic couldn't do- sell records with a mainstream sound while also keeping the streets and underground happy. It's the balance that most rappers desperately covet, but so many fail to achieve. It showcased Nas' polished lyrical skills and supreme ability to tell stories from various perspectives. The album also introduced Nas Escobar, a character in which he used to embody and advance a predominant theme of mid-90s hip-hop, Mafioso rap. Further, as compared to albums such as Raekwon's Only Built For Cuban Linx, Jay Z's Reasonable Doubt, and AZ's Doe or Die, Nas' second LP would not only outsell these album's but also stand as one of the greatest albums ever recorded in rap music.
The year 1996 saw the greatest summer in rap history. With classic albums from the likes of The Fugees, 2Pac, Jay Z and OutKast, Lil Kim and more, Nas had no choice but to come correct on his next project or instead forever be known as the Terrence Trent D'arby of Hip-Hop. To erase any possibility of a sophomore slump, Nas hooked up with perhaps the most underrated team of producers in music history, the Trackmasters. Comprised of Poke (Jean-Claude Olivier) and Tone (Samuel Barnes), the duo had been responsible for pretty much all of the big commercial hip-hop records of the 90's. Though at the time they were more known for their work on R&B and Pop records such as Mary J. Blige's My Life and LL Cool J's Mr. Smith album, the duo had never been known to produce a complete rap record. With their heavy sample-filled records, it was unforeseen if they could translate their successful formula to the underground until Nas' former Steve Stoute brought them into the fold. While they ultimately produced only half of the album, they were responsible for It Was Written brightest spots.
When the album released on July 2, 1996, it debuted at #1 and would remain at that spot for four consecutive weeks. While the album would ultimately go on to sell 4 million copies in the U.S. (4x Platinum), the success of the album was led by its main single, "If I Ruled The World (Imagine That)", featuring his Columbia records label-mate, Lauryn Hill. Hill, who was undeniably music's brightest star at the time, was still reeling from the massive success of her group, The Fugees' sophomore effort, The Score. Most importantly, Hill, a rapper and singer who was just as revered on the mic as she was on wax, provided Nas the right balance he needed to appease his fans. The Whodini and Kurtis Blow-sampling record, held the essence of early 80's hip-hop while pushing it's sound forward to match the climate of mid-90's radio. With a catchy hook, Nas was able to bring his street dreams and aspirations to the forefront.
The album's opener, "The Message", proved to be a competitive declaration from the Queensbridge MC. Produced by the Trackmasters, the song samples Sting's "Shape of My Heart." Caught up in the East coast-West coast rivalry, the Queens MC found himself at odds with 2Pac over the song's opening lines.
"Fake thug, no love, you get the slug, CB4 Gusto/Your luck low, I didn't know til I was drunk though", he raps.
Known for his boisterous, Thug Life mantra, Pac felt slighted and would in turn, go on to diss him on his next album shortly before he was murdered. Pac wasn't the only one offended by the song. With references to the car Jay Z flaunted in his video for the song, "Dead Presidents" (a song that also samples Nas' "The World Is Yours"), the beginnings of their beef that would take place in the new millennium would begin to commence here. With that said, the Notorious B.I.G. was the real target of the album's opening song.
"Regulate wit my Dunn's, 17 rocks gleam from one ring/ Yo let me let y'all n##### know one thing /There's one life, one love, so there can only be one King" he raps.
Profiled and heralded as the King of New York in an infamous The Source magazine issue in 1995, B.I.G. had now become rap's biggest star with songs all over the radio and Billboard charts. Though Illmatic was critically acclaimed when it released in 1994, it was Biggie's debut Ready to Die that was the real commercial success. Thus, Nas' hunger and desire to avenge this permeated throughout the album.
On "Street Dreams", Nas elaborates on life post Illmatic. Nas was no longer the kid looking out his project window or loungin' on park benches, he was now a target with money and success. He also had one foot still in the streets and would use his platform to speak for his boys that were still hustling.
"Though I'm innocent, til proven guilty/ I'ma try to filthy, purchase a club and start up realty/ For real G, I'ma fullfill my dream/If I conceal my scheme/then precisely I'll build my cream" he raps.
Perhaps the greatest facet of the album is Nas' ability to write from various perspectives and storytelling ability. With albums like B.I.G's Ready to Die and Jay Z's Reasonable Doubt, the main knock on Nas, in terms of content, was that he never actually lived a drug dealer's life but rather tended to use his environment as his muses. With that said, Nas was able to capture unique point of views because of this fact. For example, on "I Gave You Power", Nas teamed up with arguably the greater producer in rap history, DJ Premier. Nasty Nas and Premo had teamed up prior to make some of the best records on Illmatic such as "Memory Lane" and "New York State of Mind." On this song, Nas channeled the experiences and thoughts of what it would be like to be a gun in mid 90's rap culture.
"I seen some cold nights and bloody days/They grab and me bullets spray/They use me wrong so I sing this song 'til this day/My body is cold steel for real/ I was made to kill, that's why they keep me concealed/Under car seats they sneak me in clubs/Been in the hands of mad thugs/They feed me when they load me with mad slugs/Seventeen precisely, one in my head/ They call me Desert Eagle, semi-auto with lead."
On "Watch Dem N#####", Nas raps about betrayal and the paranoia that surrounded him post Illmatic. Featuring a young Foxy Brown, who would go on to be his group member in The Firm, the song captures the state of mind Nas was in at the time of the album's release.
"Watch dem n##### that be close to you/And make sure they do what they supposed to do/Cause you know they be thinking about smoking you/ Never personal, nowadays, it's the ways" he recites on the song's chorus.
The song would prove to be prophetic as the East Coast-West Coast rivalry would result in 2PAC and B.I.G. being murdered in September of '96 and March of '97. Speaking to this point, Nas decided to maintain his neutrality in the rivalry and work with former 2Pac producer and legendary West Coast artist, Dr. Dre on album cut, "Nas Is Coming."
On other cuts like "The Set Up", "Suspects" and "Shootouts", Nas continued similar themes of the streets expressed on Illmatic. On "Black Girl Lost", my favorite song from the album, Nas showcases his master storytelling ability once again, depicting a young girl who succumbs to drugs, alcohol and prostitution of the streets and another who continues to get hurt by dominating men. One of the girls Nas is describing has lost her way in life and prioritizes material things and goes to any length to get it. Featuring JoJo of Jodeci, the song encapsulates a common theme in the world of rap; money hungry women who use their looks and physical features for financial gain.
"Growin up seein it, it should remind you, you bein lied to/Everything that move be inside you/Sacred as you are, left with these wannabes to guide you/I watched you, hard to knock you, I tried not to/They spot you out dancin topless in your drawers/Damn look, there goes a black girl lost" he raps.
It Was Written is a classic for various reasons. Not only did it bring Nas success and cement his legacy, it transcended all of the potentially career-ending storylines that lied during that era in hip-hop. It also established The Trackmasters as a legendary producing team and proved that they could produce success street records in addition to their Pop and R&B appeal. The album also paved the way for Steve Stoute and proved his marketing and managing ability. Today, Stoute now runs Translation Inc. and has been involved in some of hip-hop's biggest business deals. While it can be argued that It Was Written is the greatest sophomore album in the history of rap music, it's ultimate legacy is that it showed that you could have commercial success while also maintaining street support. While Nas has always embodied the skills of Rakim and Kool G. Rap, his career ultimately transcended theirs in large part due to the success of It Was Written. Escobar was the first messiah of Hip-Hop. The fact that the album has aged well sonically all these years later serve as evidence for his place in rap lure. Thus, I guess it's true, it truly was written.