50 Cent has responded to Jim Jones' claim that Dipset started the rap group mixtape wave rather than G-Unit. 
Capo made his remarks during a lengthy discussion on the Flip Da Script podcast. He claimed that while many Hip-Hop fans believe 50 Cent's crew kicked off the mixtape movement of the early 2000s, it's not true.  
"Let's get this right and I'm going to keep it all the way a buck," Jones told host QueenzFlip. "We started the mixtape movement, right? And it wasn't a crew mixtape. We were making real albums and putting them out as mixtapes. G-Unit was doing replays of other people's beats and making mixtapes."   
The NYC icon continued, saying, "It was a big difference. We was using our mixtapes as albums to promote our real albums, and off those mixtapes, we were taking singles that the people started loving and started putting them on our real albums." 
After sharing what he sees as the distinction between the two collectives, Jim Jones insisted Dipset went first.  
"But even in that, we put the Dipset mixtape out first before G-Unit put their mixtape out. Now go Google it." Check out the clip below and watch the full interview at the end of the page.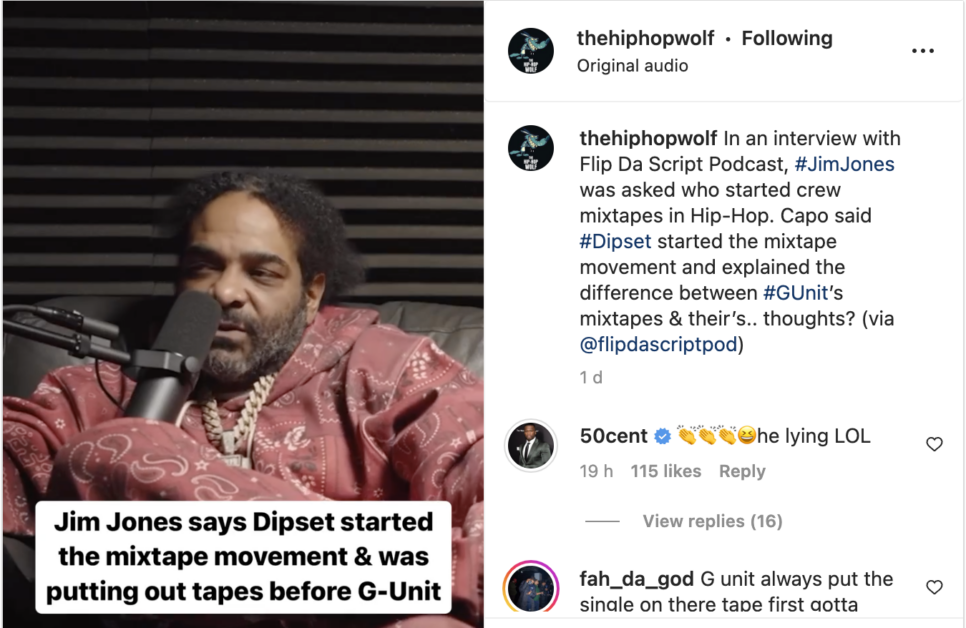 Meanwhile, 50 Cent joined the debate after a clip of the discussion circulated online, responding in the comments section of blog page The Hip-Hop Wolf. "👏👏👏😆he lying LOL," Fiddy penned on Wednesday.  
While the debate continued in the comments section, both crews dropped their first mixtapes in 2002. Diplomats Volume 1 came out shortly before G-Unit's 50 Cent is the Future was released in the summer. Both tapes sparked the careers of future rap legends, propelling Cam'ron and 50 Cent into the mainstream. 
While Dispet may have released first, G-Unit has dropped significantly more mixtapes. The Diplomats dropped eight mixtapes, while G-Unit released a total of 33 mixtapes.