Philadelphia rapper AR-Ab is making a last-minute request to a judge, to prevent a murder victim's family from speaking during his sentencing, which is scheduled for tomorrow (April 15th).
On November 19, 2019, AR-Ab was convicted of conspiracy to distribute 50 grams or more methamphetamine, 5 kilograms or more of cocaine, 280 grams or more of cocaine base, and 100 grams or more of heroin.
The government's case against Ar-Ab and eight of his OBH (Original Block Hustlaz) associates was bolstered after a former associate named Dontez "Tez" Stewart, turned stool pigeon and testified against the rapper during his two-and-a-half-week trial.
Tez Stewart claimed that AR-Ab ordered a hit on a drug dealer named Robert Johnson. Stewart carried out the murder in return for about $10,000 worth of drugs. 
The government was planning on allowing the family of Robert Johnson to give witness impact statements during AR-Ab's sentencing under The Crime Victim's Rights Act (CVRA).
AR-Ab's lawyers are taking issue with the possibility of Johnson's family speaking during his sentencing because the rapper was never charged with the murder.
Stewart was the one hit with a murder charge for killing Johnson. His testimony against AR-Ab led to a reduced sentence of third-degree murder for carrying out the hit. 
AR-Ab's lawyer claims Johnson's family's testimony could result in a harsher sentence against AR app, who was never charged with Johnson's homicide.
"Mr. West has never been charged with the murder of Mr. Johnson, much less convicted. The testimony of Stewart at trial did not bear sufficient indicia of reliability to establish any connection between Mr. West and the death of Mr. Johnson," explained Ar-Ab's lawyer, Edward C. Meehan Jr. 
AR-Ab's lawyer is requesting that his sentencing date be delayed, should the court decides to allow the witness impact statements. 
AR-Ab, born Abdul Ibrahim West, is facing a life sentence after he was convicted of running the drug operation. 
The Feds claim AR-Ab used his record label OBH Records as a front for the massive drug conspiracy. 
AR-Ab's close associate and OBH artist Dark Lo also got caught up in the case, after he allegedly wrote a threatening letter to Stewart, advising him not to testify.
Dark Lo pleaded guilty to witness tampering and is facing up to 15 years in prison for writing the letter to Stewart under his alias Ron Harvey Jr.
The real Ron Harvey was a founding member of the Philadelphia Black Mob who was hit with seven life sentences. 
The notorious hitman was accused of being involved in a heinous crime in 1973 in Washington DC, where seven people – including an infant – were slaughtered in a home that was owned by NBA legend, Kareem Abdul-Jabbar. 
AR-Ab filed the emergency motion today, and a judge has yet to decide as to whether or not Johnson's family will be able to make a statement during his sentencing.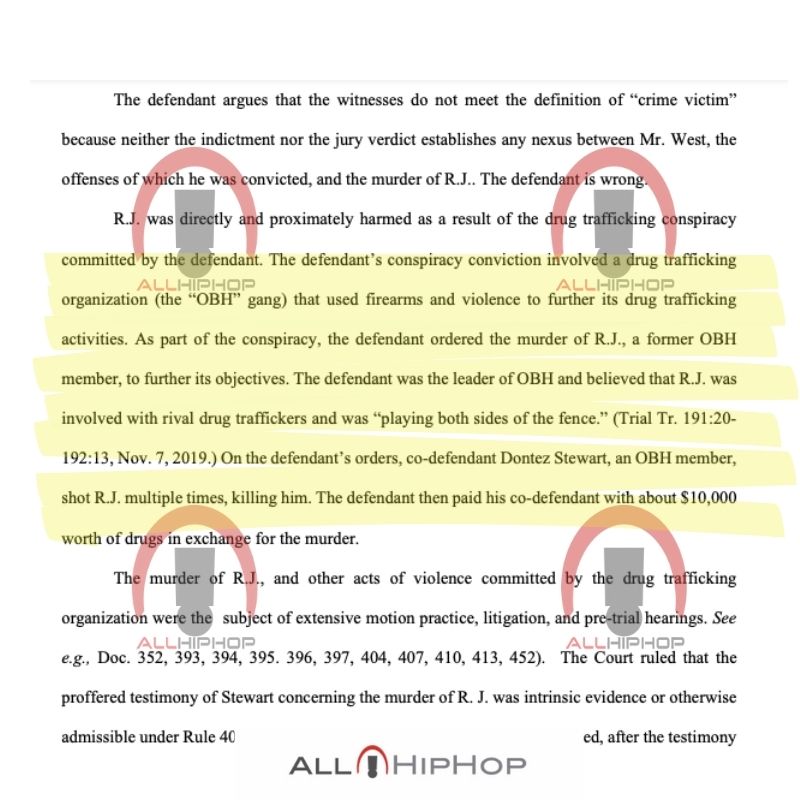 AR-Ab could be facing an uphill battle, because Jennifer Arbittier Williams, Acting United States Attorney, also filed a motion, asking the judge to dismiss AR-ab's last-minute effort to delay sentencing. 
"At trial, this Court correctly found that the murder was indeed intrinsic to the conspiracy and ruled that the jury should hear evidence of this murder during trial," Williams countered. "That evidence included that the defendant ordered a co-conspirator drug trafficker to kill a suspected rival drug dealer, and then the defendant paid the coconspirator with significant quantities of drugs. The defendant offers no compelling justification as to why this Court's previous findings were erroneous."
A judge has yet to rule on the matter.