Rare Breed Entertainment bounced off April with their Max Out card continuing "brick by brick" to build the battle rap franchise's cache.
Star-studded and highly anticipated, the event was not only the premiere of former Jive recording artist Cassidy on the league but was the first big room event since the 2020 coronavirus global pandemic brought the industry to a halt.
1SKS
The event started with the 1SKs featuring two one-round battles from Jay Breed VA vs Delvo and Super Black vs. Jay Lopez.
Jay Breed might be a small stick of dynamite, but when he gets lit — he is combustive. His energy and wordplay felt more seasoned than his diminutive resume reflects. While he ascended as the victor to Houston-backed Delvo, he did not totally body him. It was bad but nobody. Delvo performed well and deserves another look.
The next one-rounder was with Super Black and Jay Lopez. Lopez, who had recently suffered from a car collision (which stopped him from attending the press conference/ face-off), did not come to play any games.
The Milwaukee spit-kicker was the underdog as battle rap is usually character and personality-driven and his opponent has plenty of those makings. Also, Super Black is a vet and was expected to do what he is known to do: cook.
But that was not the case. The crowd not only was distracted but was not interested. Lopez took the win.
Black Compass Media analyst Tony Bro commented on the battle noting that the talent was exceptional and dubbing Jay Bread as one of them one's to watch. He posted on Twitter, "Both were dope to me. They was treating this like the smoke break battle man smh. Jay Breed the 1SK MVP tho, he made me a fan today."
Both were dope to me. They was treating this like the smoke break battle man smh. Jay Breed the 1SK MVP tho, he made me a fan today.

— Tony (@Tony72067861) April 3, 2021
ROSENBERG RAW VS. SHOWOUT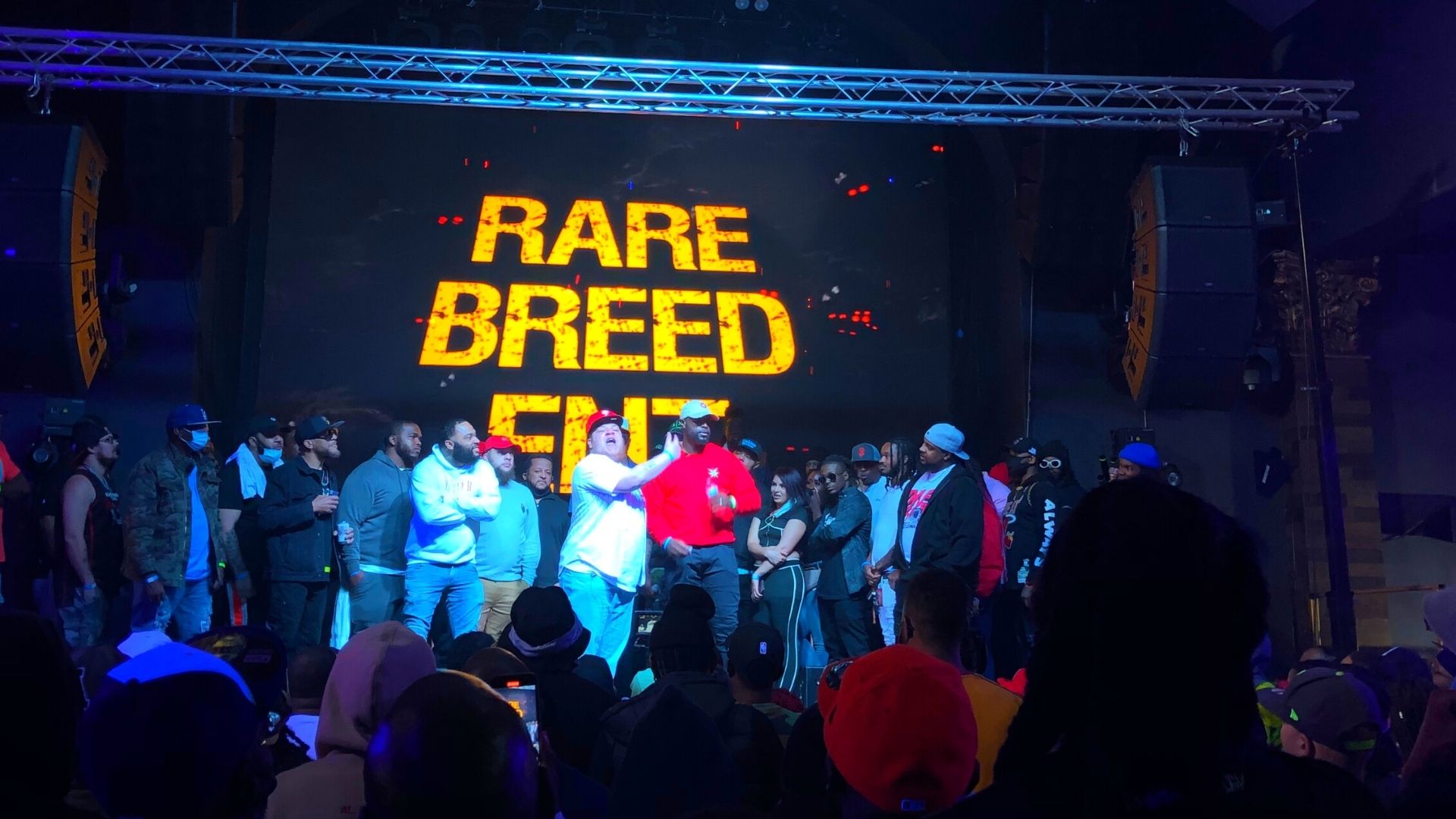 Brooklyn's Showout needed to prove his value to the culture during the Max Out event. His expressed interest was to embarrass his opponent, showing him why his career has been a bunch of hype. However, those plans were stopped short and Rosenberg Raw. Dressed in an all-red Phillies' baseball jersey, he meticulously unpacked his Show's character with humor and crowd-pleasers. The driving narrative of Raw's performance was to poke fun at his reported sexuality and his former friendship with disgraced battle rapper, Adhi Boom.
The crowd seemed to hate Show by the end, and it impacted him greatly. He basically gave up and handed the well-deserved win to Raw. 3-0 The Philly Buhl.
ILL WILL VS. A WARD
This battle was fire. FIIIIIYYYYAAAAHHH and indeed the battle of the night (possibly a contender for the best ones of the year).
Ill Will came out the gate with straight attacks on A Ward's race, religion, and his engagement with Blackness as a white Christian battle rapper. Without ever doing too much, Ill Will has the charm and talent to pull off just about any and everything that he puts his mind to. Getting A Ward up out of here was his objective.
However, A Ward ain't no slouch. #TheChristiansAreHere
Just as much as the crowd loved Ill Will, they loved A Ward. Going second is dangerous for either one of these freestyle masters because of the power of rebuttals. And the Christian took full advantage of this. Blasting off his first-round with "off the domes" left and right.
But as mentioned previously, Ill Will has the same superpowers. He came back rebuttaling (four if we counting) and reminded the world (that's been streaming battles for over 10 months) what it feels like to be in the room.
HE WAS ROCKING THE AUDIENCE LIKE A BREASTFEEDING MOTHER ROCKS HER NEW CHILD TO SLEEP.
The two were 1-1 going into the third. And this is where the Pontiac rapper took his foot off the gear a little. That doesn't mean his material and delivery were not exceptional — of course, they were … it is Ill "MuthaFlucking" Will, but he stopped short. His third-round just was not as competitive as he was in either one or two. A Ward took advantage of this and made magic happen. He took this win with a solid 2-1 (but there is no debate if someone gives it to Ill Will). #CLASSIC
The most famous battle rappers do not want to battle people like Ill Will A. Ward.

The last thing you want random fans finding out is people like them exist.

The jig will be up

— Drect Williams (@Drect) April 4, 2021
Salute Ill Will and A Ward for a hell of a battle. Now everyone go watch me and Fonz vs Shine and Lu. Happy Easter MOTHAFUCKKKKAAAAAAZZZ

— SHOOTY SHOOT (@Sharkcity_Ave) April 4, 2021
A. Ward steals the 3rd round with the Ill Will Impression. Dope style breakdown and the Bucket hat for extra Showmanship. A1 Battle #MaxOut

— Tony Bro (@ToneQapo) April 3, 2021
JAG vs. O-RED
When Jag was announced against O-Red, many saw this as a straight mismatch. But considering how the crowd let loose their boos, the "many" were right. They both were not great. If there is a winner, Jag maybe 2-1.
Many believe that it should not have been this close. O-Red was the first Champion of the Year just four titles ago. But the Jersey artist seemed unmotivated and discouraged once the crowd turned on him. Jag on the other hand came with the purpose of establishing himself within the modern era of battle rap. While he has definitely progressed since his Math battle, he is still not quite there.
Regardless of the bountiful levels of disrespect he crafts in his bars, Jag has to learn that levels are needed. Being able to rap is not enough when you are dealing with this level of performance. He has to find his own key to success in this space. Still, a victory over O-Red is a feather in his cap, even if he was not the O-Red that people usually tremble in front of.
BIGG K VS. CLONE
Originally, Bigg K was scheduled to battle Serius Jones but due to unfortunate circumstances, he was unable to partake in one of the biggest cards of the new year.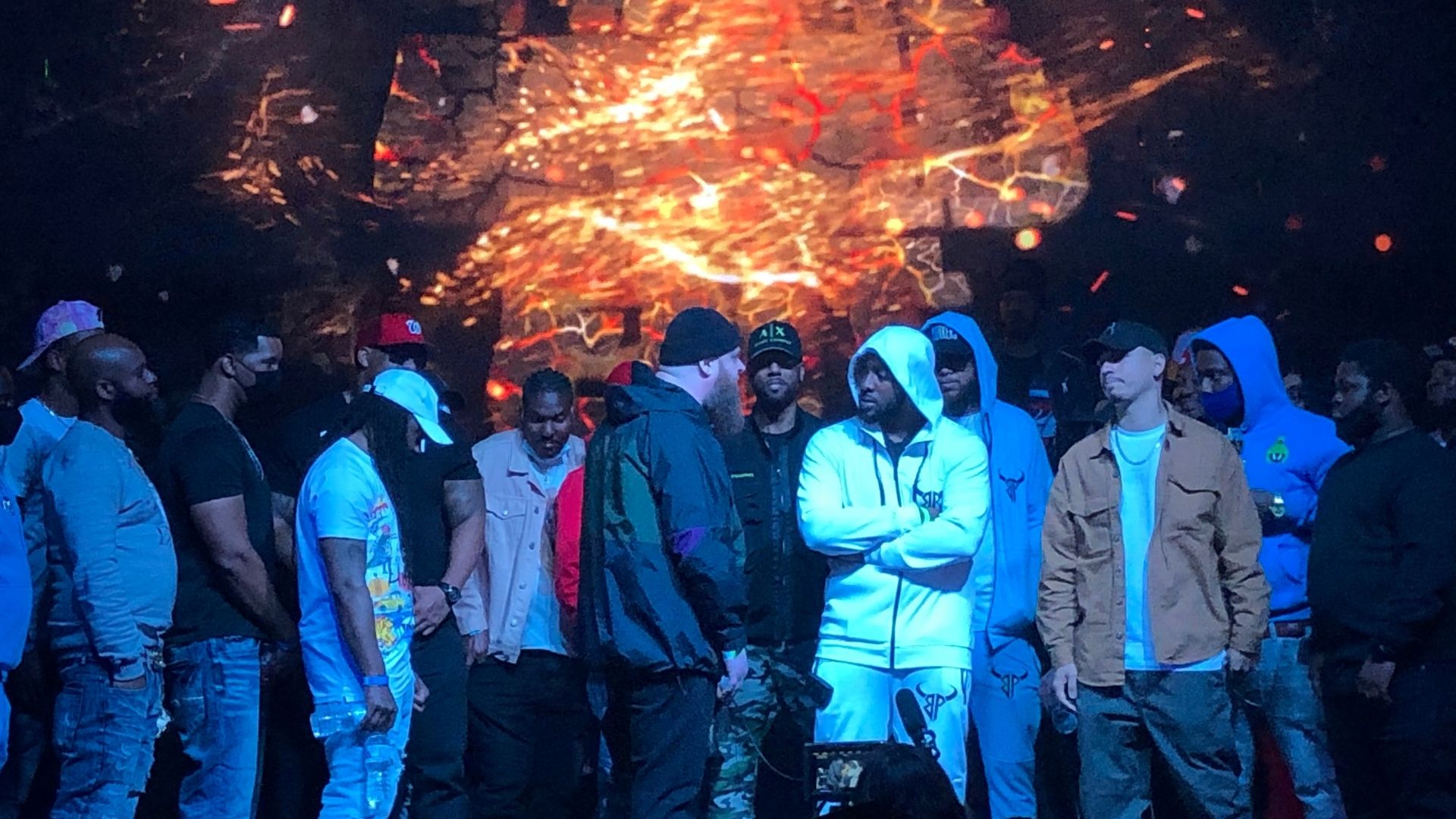 Luckily, the minds of Rare Breed Entertainment were able to secure another talent with only sevens days to go until the battle. The team tapped Bullpen battle league gunner, Clone to replace the vet. Clone versus Bigg K seemed to be a better battle.
And it was a good match-up. The junior emcee was able to sharpen his steel against one of RBE's biggest stars. And Bigg K challenged the young buhl (or bull's) pen, stepping it up. But unfortunately, it just wasn't enough.
Bigg K, the anti-star, is a fan favorite and came to get busy. The Dawg is the top dog in the house that blood, sweat, and tears built. And he that for good reason — he takes everyone regardless of tier with the same level of aloof disregard that makes his opponents either feel disrespected or really insecure.
Bigg K took this with a 2-1 (possible 3-0), but it is important to note how well Clone did.
S/O to Clone for taking the battle on such short notice … and Salute to BiggK for not digging into the Mixtape bag and crafting his rounds for his opponent.

Very difficult to do on short notice and not stumble or choke … especially back on the big stage.

— bars.battlerapstats.com (@BattleRapStats) April 3, 2021
CASSIDY VS. HITMAN HOLLA
The main event of the night was Cassidy vs. Hitman Holla. Both artists have succeeded far beyond the typical battle rapper's scope. It is out of this well of exceptional talent that this battle yielded attention from celebrities and commercial rap fans.
I'm dying to kno who win tht Cassidy vs Hitman battle

— BENNY THE BUTCHER (@BennyBsf) April 4, 2021
Hitman brought out his Brotherhood frats who were sprinkled throughout the venue. John John da Don took center stage with his best friend. K-Shine did a tribute to DMX. X-Factor and Tsu Surf were in the cut. Battle rap's elite came out to support one of its own.
Cassidy might as well have rung out a Morrone's truck single, popped out some freshly baked soft pretzels, cracked the Liberty Bell, and wrapped all that up in a chicken cheesesteak … for all throughout the club were Philly representatives rooting for their city's son.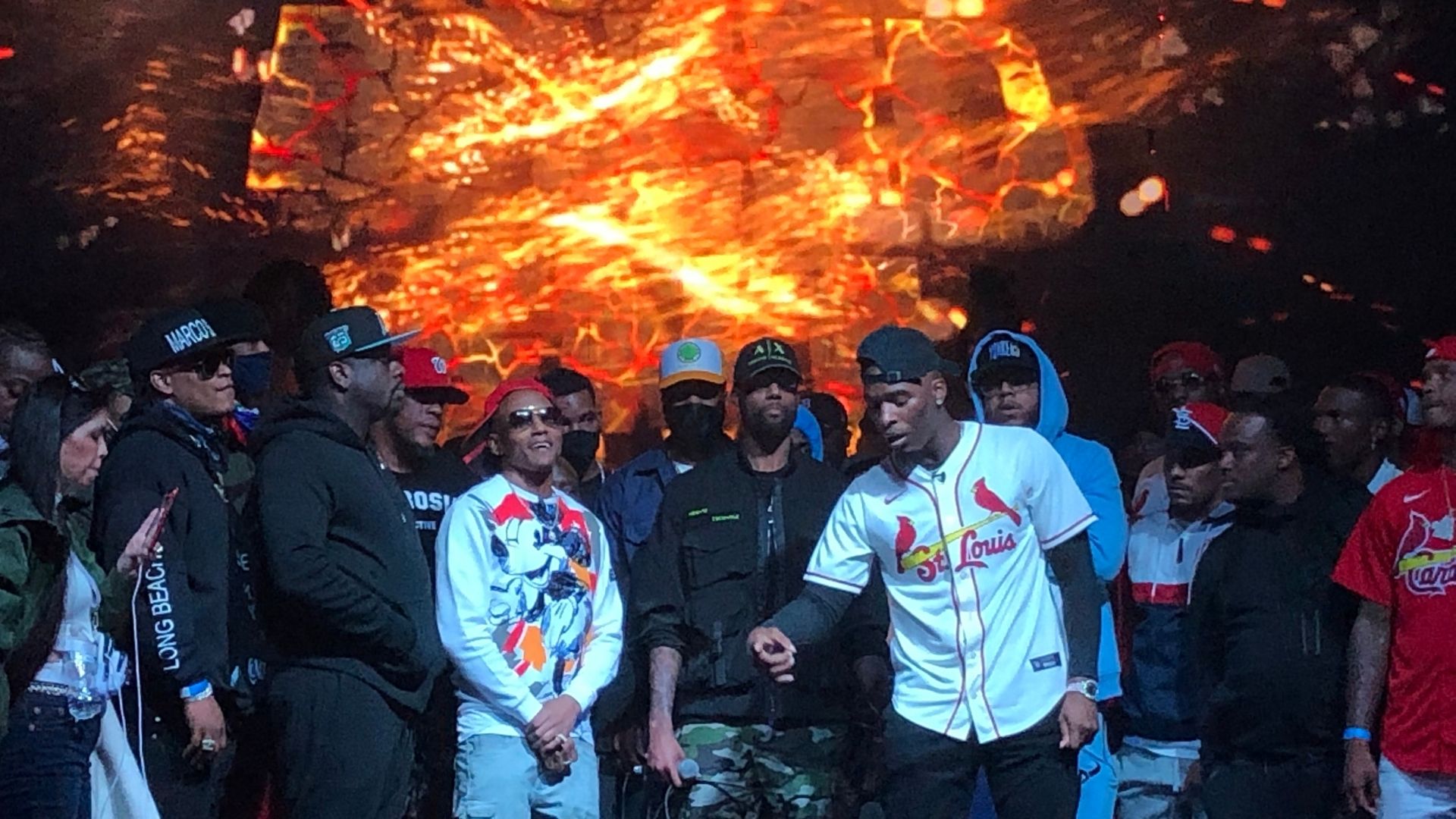 This battle will be debated.
Cassidy showed just why he went to Central High — he listened and learned new tips on how to update his style and craft rhymes for the crowd versus himself. BARS are back. While still a little long-winded, he was more than prepared.
Hitman definitely was prepared also. He was entertaining and demonstrated why he is in such high demand. His BET show and Wild 'N Out acclaim could've had him "too Hollywood" to rock the crowd. But it didn't. From his requested remix in round one to his special guests in round three, he emerged as the victor.
The rapper did fail to remove the "Hotel" chart-topper in some people's eyes.
He was supposed to get Cass out of there. Instead, he let the "Hustler" get (or appear to get) a round on him in the first.
He is after all a commercial rapper, coming back to the sport after it got lit. Right? That would be wrong reasoning. One can tell that Cass loves the culture. He loves the rush of competition and seems to be on a crash course to getting a legitimate and resounding victory.
In our opinion, the second and the third went to Hitman, but there will surely be a lot of fans that will side with Cass based on preference. But with that 1-1 going into the 3rd and then ShowwOutt's anticipated appearance and Nick Cannon surprise pop-out, it is hard not to give the former basketball player the W.
He was good and should rightly be proud of his performance. He definitely reminded us that he was a star. Check out how other battlers chimed in.
Cassidy (@CASSIDY_LARSINY) was in his bag in the first round vs Hitman Holla ‼️

🔥🔥🔥🔥🔥🔥#MAXOUT pic.twitter.com/0LUBGFSlb1

— All Things Battles (@AllThingsBattle) April 4, 2021
Hitman Holla (@HitmanHolla) turned it up in the third round vs Cassidy ‼️

"To whoever think a nine'll miss (anonymous) don't know who the f### i am"

🔥🔥🔥🔥🔥🔥#MAXOUT pic.twitter.com/lz8LLOg6gP

— All Things Battles (@AllThingsBattle) April 4, 2021
In This Battle Cassidy Seemingly Improved…And Holla Seemingly Declined..But I Still Got It Hitman 1st & 3rd..EDGE..Same Time He Didnt Finish The Job Cuz He Said Cassidy Would Never Battle Again..Im 100% Sure Cass Will Be Back

— #LongLiveDMX | 🥃 (@BattleRapTrap) April 4, 2021
Just watched the @CASSIDY_LARSINY post interview and I just gained a lot more respect for him because he was humble and said things like "I'm still learning still trying to improve"..that's literally what we ALL just wanted to hear….and he's saying that coming off a WIN! 👊🏼👊🏼👊🏼

— Pat Stay (@patstay) April 4, 2021
But why are we making excuses for supposedly top tier battle rappers not being able to clearly wash someone who is not supposed to be on the same stage as them !! Cassidy is exposin the fact that them old era n##### are not good they basic and have fans !! NEW ERA https://t.co/P0IkMhcBsV

— illumigotti (@GeechiGotti) April 4, 2021
If we piccn winners !! Cassidy

— illumigotti (@GeechiGotti) April 4, 2021
Rare Breed Entertainment can also take a bow. The Max Out card marks the official return of the big room and this league ushered it in like true thought and cultural leaders. BRAVO.