Once again, Doja Cat is at the center of controversy. The "Say So" hitmaker faced backlash online after posting an image on Instagram that left some of her followers disturbed.
Doja Cat shared a selfie on her verified Instagram account yesterday (September 6). In the picture, the rapper/singer is wearing a t-shirt with Sam Hyde's face on it.
Sam Hyde is the co-founder of the Million Dollar Extreme sketch comedy troupe. According to reports, Hyde has openly supported far-right content creators, neo-Nazis, and white nationalists.
Additionally, Sam Hyde became a meme on alt-right-friendly websites like 4chan because internet users purposely misreport him as a suspect during mass shooting investigations.
Doja Cat's shirt in the IG post features a picture of Sam Hyde holding a firearm. Trolls often use that photo to spread misinformation about the possible shooter following highly publicized gun violence incidents.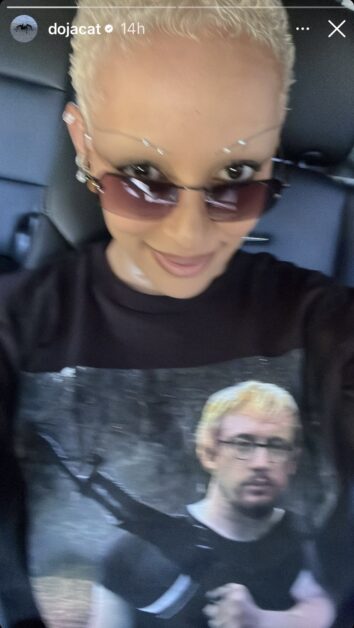 Doja Cat Faced Accusations Of Communicating With The Alt-Right In The Past
Back in 2020, #DojaCatIsOverParty became a trending topic on the Twitter platform (now known as X). Critics blasted the RCA Records artist for allegedly interacting with known white supremacists in Tinychat forums.
"I learned that there are racist people who come in and out of the chat. They happen, then they're banned. The idea that this chat room is a white supremacist chat room – I don't understand it in any way," said Doja at the time.
She also added, "I've seen it and I know I've been targeted by it, and I know that it's controllable. But the narrative that it's a white supremacist chat is completely incorrect. It's absolutely, 100% f###### incorrect." 
This year saw Doja Cat face some negative reactions for embracing demonic themes in her music. Some observers believe that move towards dark imagery in her art may have weakened the fan support for her new Scarlet studio LP.
Scarlet debuted at No. 4 on the Billboard 200 chart with only 72,000 first-week units. In contrast, Doja Cat's 2021 album, Planet Her, opened with 109,000 units and peaked at No. 2. However, Doja did find success with the Scarlet single "Paint The Town Red" which hit No. 1 on the Hot 100 chart.