Donald Trump is known for a lot of things—business tycoon, television show host and that polarizing stint as the 45th President of the United States. But artist? Over the weekend, a track called "Justice For All" by Donald Trump and the J6 Prison Choir claimed the No. 1 spot at iTunes.
That's right. He beat out songs such as Miley Cyrus' monster single "Flowers," Morgan Wallen's doozy "Last Night," Rihanna's Black Panther juggernaut "Lift Me Up," Coi Leray's "Players," Wiz Khalifa's "See You Again" and Nicki Minaj's "Red Ruby Da Sleeze." That has to sting.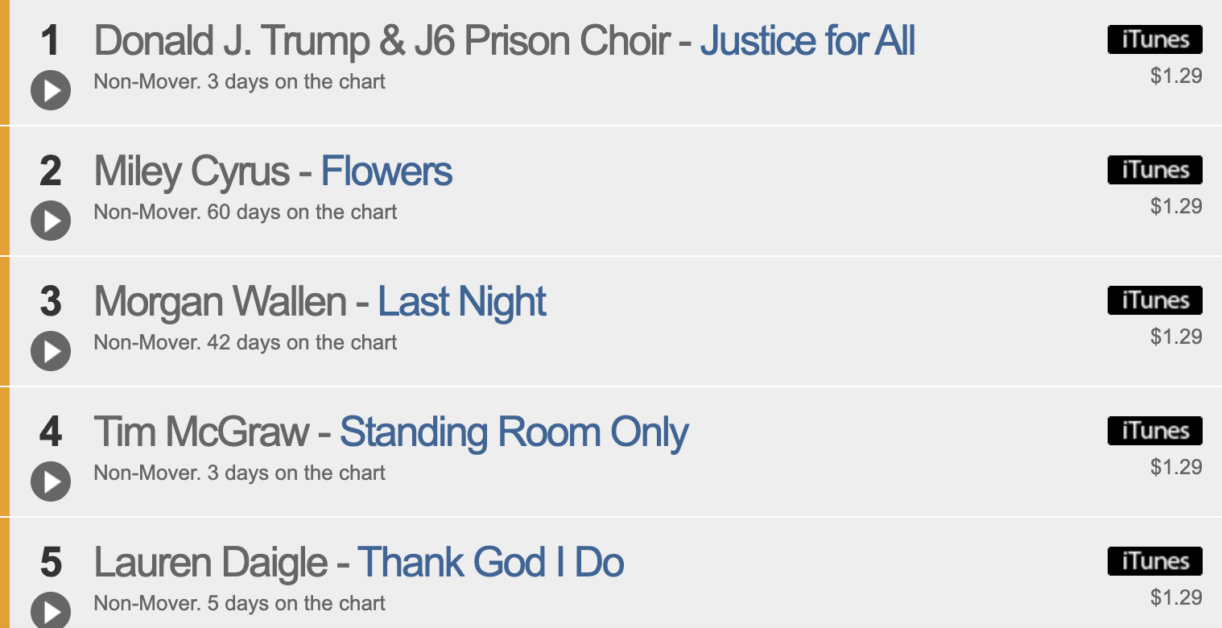 Donald Trump is arguably the most divisive person on the planet—you either love him or hate him. For those who fall in the latter category, the chart-topping track isn't a good sign. Apparently a lot of people want to hear what he has to say. And Trump is counting on those people in 2024 when he runs for president—again.
As for the creation of the song, The J6 Prison Choir is comprised of a group of men who were convicted after their participation in the attack on the U.S. Capitol on January 6, 2021. The song includes the choir singing "The Star-Spangled Banner" from jail before it climaxes with the convicts chanting "USA! USA!" The "Justice for All" track has the performance of the national anthem spliced with clips of President Trump reciting the Pledge of Allegiance.
According to CNN, The J6 Prison Choir asked Trump to record his part for their upcoming song. Out of support for those incarcerated, Trump agreed and recorded the audio at his Mar-a-Lago residence.