While Drake may have come under fire for canceling a recent show after being spotted out partying with 50 Cent, that didn't stop Drizzy from paying tribute to Fiddy a day later. 
The OVO honcho was slammed by fans online after he canceled his headlining performance at Lollapalooza Brazil in São Paulo on Sunday night (Mar. 27), citing production issues.  
However, fans were angry after Drake was seen on video the night prior, celebrating with 50 Cent. The pair were captured deep in conversation at his birthday party at B#### Trap on the River in Miami. Fans took to social media complaining that Drizzy showed up to the club with 50 but not to his concert.  
Nonetheless, the two rappers were shown deep in conversation and presumably had a good meeting. Although some fans were less than pleased Drizzy canceled his show, others began calling for a collab. The two rappers have yet to work on music together and could break records with their respective hit-making abilities. In addition, 50 Cent now reigns over a vast media empire and could pull Drake back into acting.  
Drake Shows Love To 50 Cent
On Monday evening, Drake showed love to 50 Cent on his Instagram story, wearing a G-Unit tee with Fiddy's face on the front.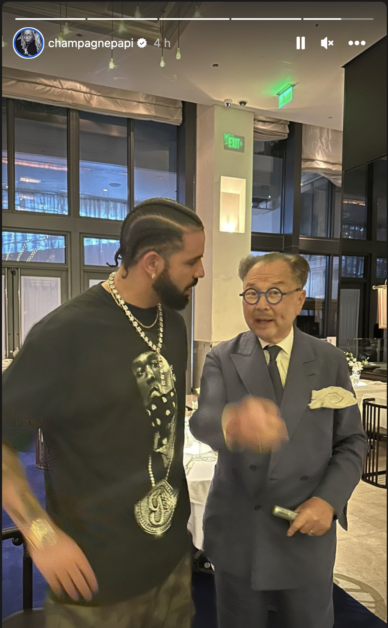 This isn't the first time he's used his fit to pay tribute to 50 Cent. Drake donned a short with Fif's name on the front while playing Hip-Hop loving basketball star Jimmy Brooks on the Canadian TV show Degrassi: The Next Generation.  
Last May, 50 Cent shared a post of Drake wearing the shirt and gave him flowers in the caption. "That boy @champagnepapi came wit it," Fiddy penned in the caption. "He got off that show and made some real fvcking hits man."