Drake continues to make history, achieving another Spotify milestone. 
The Her Loss creator has become the first artist in history to generate 50 billion total streams on the platform, according to a tweet from Chart Data. Furthermore, Drake is reportedly the first-ever artist to achieve this feat.  
Drake took to his Instagram Story to share the accomplishment with his 130 million IG followers. He also suggested that the streaming platform pay artists a bonus for hitting milestones instead of sending them plaques.  
"We should get bonuses like athletes to motivate the future artists to be consistent and competitive," Drake wrote. "So feel free to send me a LeBron sized check [sic]," he wrote before adding, "I have enough dinner plates."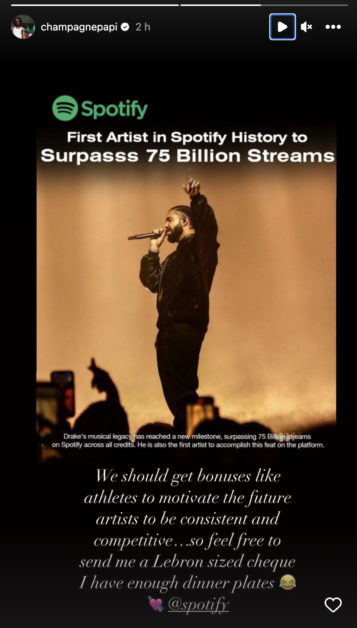 The latest accolade is the most recent in a long line of records Drake has cracked on the streaming platform.  
His 2016 single "One Dance" was the first song to earn 1 billion plays on Spotify. The Toronto-born megastar achieved the record the same year he was their most streamed male artist. Drake was also the first to hit 10 billion plays on Spotify, setting another record in 2017.  
Champagne Papi was named the king of the 2010s when Spotify released their "A Decade Wrapped" lists in 2019. Drake sat atop the Most-Streamed Artists of the Decade (Global) rankings with more than 28 billion streams, beating Ed Sheeran, Post Malone, Ariana Grande, and Eminem to the title. 
In addition, Drizzy was the first artist to break the 50 billion streams barrier on the streamer. Spotify announced Drake hit the milestone in January 2021. In the two years since, he has racked up another 25 billion, according to the latest report.