Rapper Ice Cube is presently working with the Trump Administration on his highly-publicized "Platinum Plan," according to numerous reports
Trump campaign advisor Katrina Pierson thanked Ice Cube in a viral tweet for helping develop the Platinum Plan. The plan, which is a program specifically for African-Americans, includes a $500 billion package for Black communities from the Republican Party.
Jermaine Dupri Exposes Black Republicans And Talks Kanye West & Ice Cube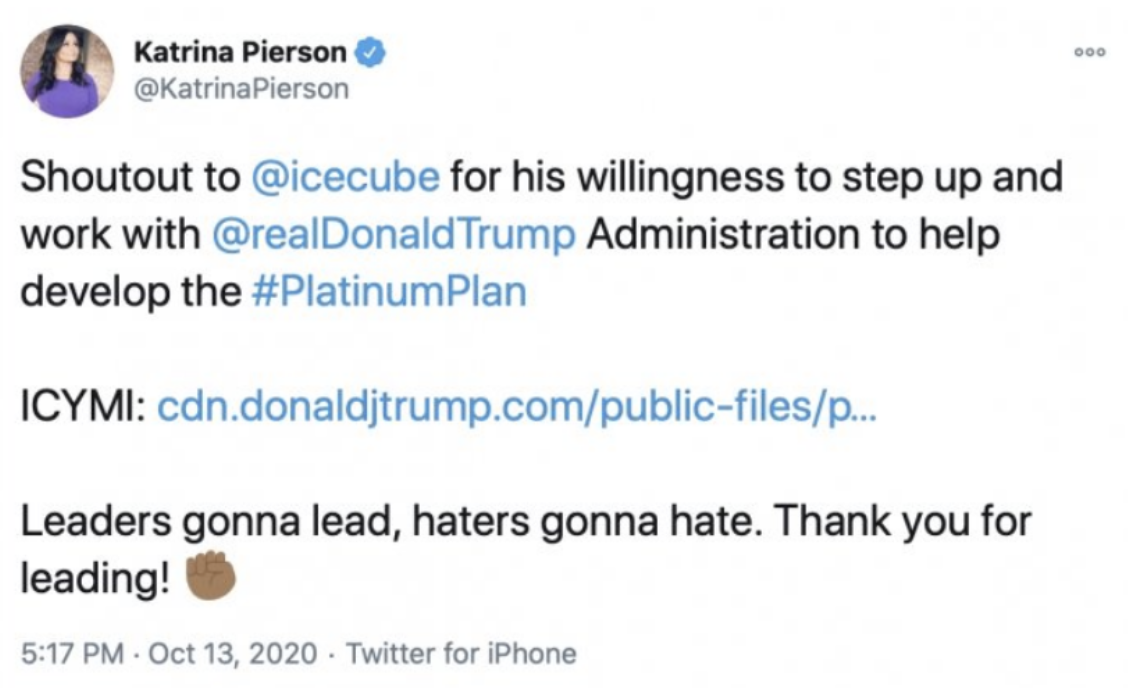 Sunday, Ice Cube revealed in a video distributed online that he has met with both Republicans and Democrats, and stated explicitly that neither party has done right for Black people. Cube himself says that he is bi-partisan – neither Democrat nor Republican – even though most Black entertainers have gotten behind a Joe Biden and Kamala Harris ticket.
"We also met with the Republicans and sh#t. They brought us in. We talked to 'em," Ice Cube said in the video. "They've moved their agenda a lot because of what we said. You know, they put $500 billion on the table. Who knows what's gone really happen. I just know one of 'em gon 'win. I don't know if it can really matter to us. We gotta just push whoever's in there 'cause ain't nobody really solved our problems. People say we can't take another four years of this. Black people, we can take anything, s###."
Donald Trump's Platinum Plan will presumably help capitalize black communities, create 3 million new jobs, and create 500,000 new Black-owned businesses. How all of this works financially has not been clearly defined.
Ice Cube has not made a formal statement at the time of this publication. However, his past tweets dramatically contradict his present stance.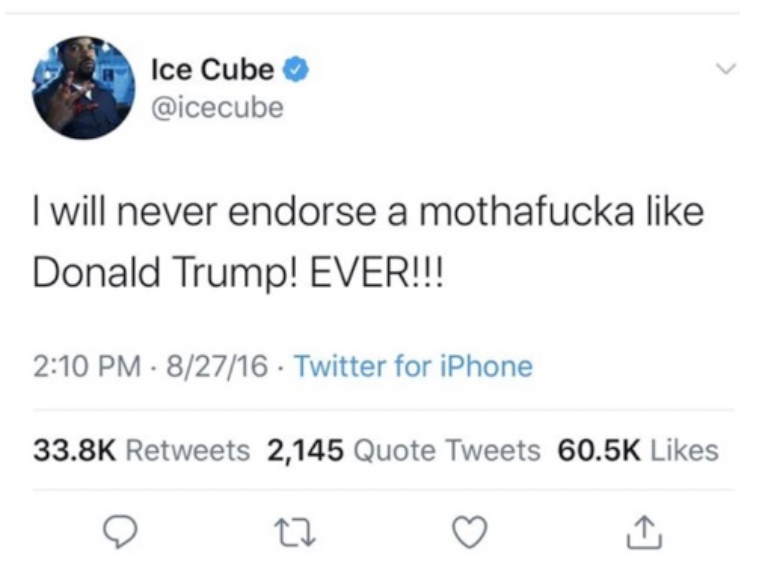 The tweets ranged from anger to humor.
Someone said Ice Cube is about to drop a track called "hug the police."

I. am. done. pic.twitter.com/yousmp5z1d

— Kovie Biakolo (@koviebiakolo) October 14, 2020