Jam Master Jay's alleged killers may blame his death on an unidentified co-conspirator in their upcoming murder trial.
Karl Jordan Jr. and Ronald Washington are accused of murdering Jam Master Jay in 2002. But according to court documents obtained by AllHipHop, prosecutors say the murder suspects have "sufficient basis" to claim another person killed the Run-DMC DJ.
Prosecutors asked the court to preclude "speculative alternative perpetrator theories" as evidence in the trial. The prosecution raised concerns about confusion for the jury while admitting the defense has a plausible argument for identifying one co-conspirator as Jam Master Jay's killer.
"While other presently uncharged members of the narcotics and murder conspiracy have asserted their Fifth Amendment right against self-incrimination—including Coconspirator 1, Coconspirator 2 and the cocaine supplier for the Baltimore narcotics transaction—their participation is separate and distinct from that of the charged defendants," prosecutors wrote in a filing.
They continued, "However, upon review of the defendants' memoranda and in consideration of the applicable case law, the government concedes that Coconspirator 1 properly meets this standard. As such, the government agrees that the defendants have a sufficient basis to argue that Coconspirator 1 is the perpetrator. Yet other speculative and unsupported theories must be rejected without further inquiry, an evidentiary proffer or a hearing."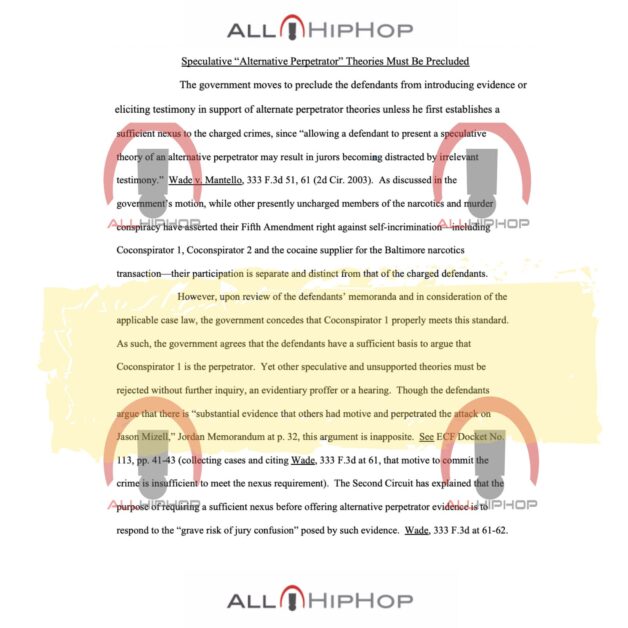 Prosecutors still insist Jordan and Washington are responsible for Jam Master Jay's death. The prosecution plans to present evidence of Jordan allegedly admitting to murder and returning to the scene of the crime.
"The evidence at trial will show that Jordan returned to the murder scene the same night," prosecutors wrote. "And the government will argue that his frequent videos and social media postings in front of [Jam Master Jay's] mural and his 'aim for the head' mantra were designed to intimidate witnesses and present himself as untouchable."
Jordan and Washington have been charged with murder while engaged in narcotics trafficking and firearm-related murder. Their trial is scheduled to begin in February 2023.