Jay-Z has paid tribute to Hip-Hop producer DJ Mark the 45 King following his death. Manager Paul Martinez confirmed The 45 King died at the age of 62 on Thursday morning (October 19).
The producer, real name Mark Howard James, had worked on a number of well-known songs such as Jay-Z's "Hard Knock Life" and Eminem's "Stan." Jay-Z took to social media to share a touching tribute to the Bronx native.
"Thank you Mark," he began. "Your instrumentals, namely The 900 Number, were more memorable than our whole albums. You gave me a canvas to have a conversation with the world!! You changed my life. Even when the life is short, the art is long!!"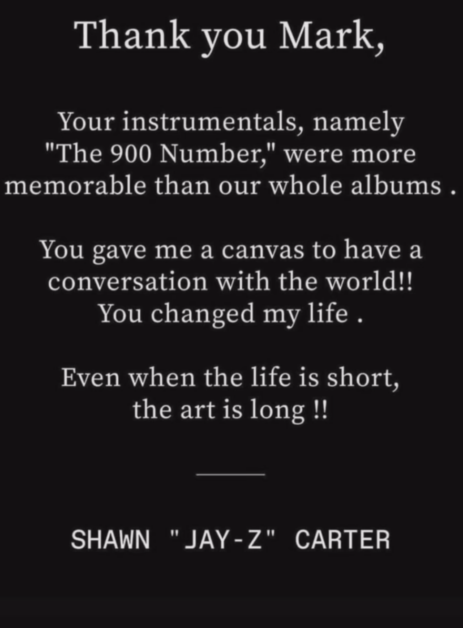 Eminem also took to social media to remember the celebrated producer.
"Legends are never over. #RIP Mark Howard James aka the 45 King … I'm 4ever grateful!!!" The Real Slim Shady rapper wrote on X/Twitter.
Queen Latifah, who worked with the producer on her early hits "Ladies First" and "Wrath of My Madness," said in a statement, "He believed in me before anyone else. He touched every life he encountered. I've never met someone like him; he wanted everyone around him to win. His spirit was magic and will certainly live forever."
The producer's most groundbreaking track, "The 900 Number," was released in 1987, launching him into the spotlight. The song has been sampled by several artists since its release. In addition to Jay-Z, Eminem and Latifah, The 45 King also worked with Madonna, Salt-N-Pepa and, of course, his own collective, Flavor Unit. The specific details surrounding The 45 King's death haven't been revealed, but promoter Van Silk told AllHipHop he'd been sick for some time.