Juice WRLD died in December 2019 after suffering a fatal drug overdose. Nearly four years later, there are people still trying to capitalize off his name and legacy. According to alleged leaked direct messages, his ex-girlfriend Ally Lotti is attempting to sell several of the late rapper's items for thousands of dollars. The messages started making the rounds online earlier this week.
"Well I'm not truing to sell so I don't have a price in mind," Lotti wrote. "I got you on like a package deal or something but like it said this stuff is pretty priceless to me and is only going to be worth more money in the future. I would like to be walking away with like 30k honestly you know. So what's your budget? We can figure out what we can do."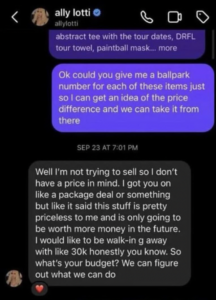 At some point, one of Juice WRLD's fans got ahold of the rapper's Transparent Prism Louis Vuitton backpack and was trying to re-sell it for $40,000. The fan claimed he had Lotti's help. The message read: "I am selling the coveted Transparent Prism Louis Vuitton backpack that was once owned by the late and beloved Juice WRLD.
"This unique piece is not only a symbol of style but also a valuable collector's item with a fascinating backstory. To ensure transparency and authenticity, I have acquired this backpack with the assistance of Ally Lotti, Juice WRLD's ex-girlfriend, who was kind enough to provide proof and direct messages regarding its ownership."
Ally Lotti seems to be struggling in the wake of Juice WRLD's death. In January, she was arrested in West Memphis, Arkansas on charges of possession of methamphetamine or cocaine with the purpose to deliver, possession of drug paraphernalia and theft of property. The 29-year-old Instagram model and influencer was eventually released from The Crittenden County Detention center on a $2,525 bond. Her 19-year-old boyfriend, Carter Jamison who was also arrested for theft of property, was released less than an hour after Lotti.