Rap star Kanye West was banned from Instagram for a series of anti-semitic poses, and now Twitter has the rapper in their crosshairs. 
Kanye returned to Twitter after a two-year hiatus, to the glee of his 31 million followers, including the soon-to-be owner, Elon Musk.
Ye left his social media platform of choice, Instagram, after his account was hit with restrictions on Friday (October 7th) following a series of posts platform handlers considered anti-semitic.
The post that got him banned from Instagram came during a heated exchange with Sean "Diddy" Combs, who was attempting to contact the rapper about his controversial "White Lives Matter" T-shirt.
Kanye shared a series of text messages between the pair, in which he claimed Diddy was sent by the Jews to control him. Instagram reps claimed West's text thread violated the platform's policies.
And now Twitter will be tested as they prepare for Elon Musk to take over the platform. 
Many believed Musk's involvement in the company would loosen some restrictions surrounding free speech, but that may not be the case. Despite the new boss welcoming Kanye with open arms, Twitter has already removed a controversial post by Kanye.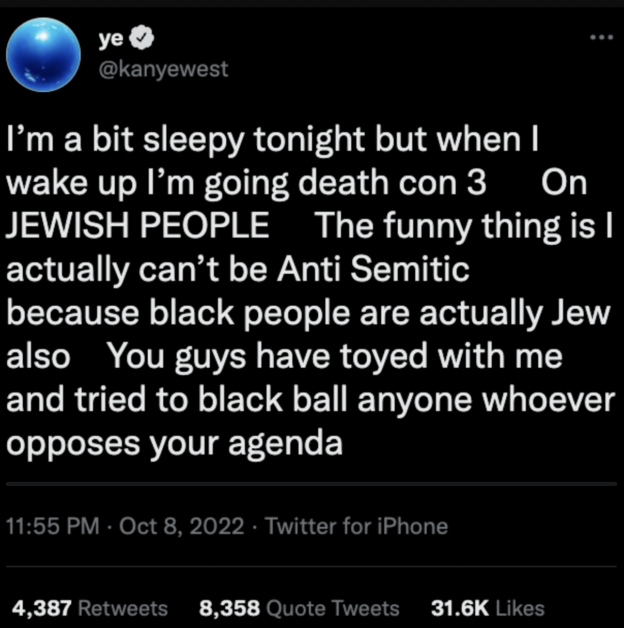 Earlier today (October 9th), Kanye took aim at the Jewish people again while defending himself from being anti-Semitic.
Kanye threatened to go "death con 3 on JEWISH PEOPLE," while adding he can't be anti-Semitic because Black people are actually Jew."
Twitter removed the post and locked Kanye's account. 
According to the ADL, the ideology originated with the Black Hebrew Israelite (BHI) movement, which the organization labeled a fringe religious sect that asserts that people of color are Israel's true children.
The sect believes that white people or "conventionally accepted Jews" are not members of the tribes.
"Black Hebrew Israelites are not Jews, and Black Jews are not the same as Black Hebrew Israelites. Black Jews and Jews of color are genuine members of the Jewish faith," the ADL says. "Black Hebrew Israelites identify specifically with the biblical Israelites and consider Judaism, Christianity, and Islam to be false religions. Many BHI teachers claim that Jews and other white people forced Black individuals into other religions. Extreme factions believe white Jews are perpetuating identity theft."
Ye turned his attention to the events unfolding in Iran, where protests erupted after the death of a young woman in police custody after she was arrested by the morality police for violating the country's strict Islamic dress code.