Rap star Kodak Black is aiming to make an international impact around the country – and even internationally now that a judge has granted him the right to travel.
Kodak may have been pardoned by President Donald Trump on January 19th, the revered rapper is not in the clear just yet. 
The rapper served 21 months of a three-and-a-half-year sentence in a maximum-security prison, for lying on a Federal application to purchase several firearms. 
And while Trump helped spring Kodak, he's still on probation for the next 35 months.
Kodak, real name Bill K. Kapri, wants to do lots of good in the world, and he's already off to a good start. 
 A judge has agreed to ease up on the travel restrictions so he can get to work to fund some of his charitable endeavors, one of which is funding alternative power sources for his ancestral home of Haiti. 
The rap star also hopes to build a school in Haiti, and here in the United States, Kodak wants to fund future scholarship opportunities for students in high-school who come from low-income neighborhoods.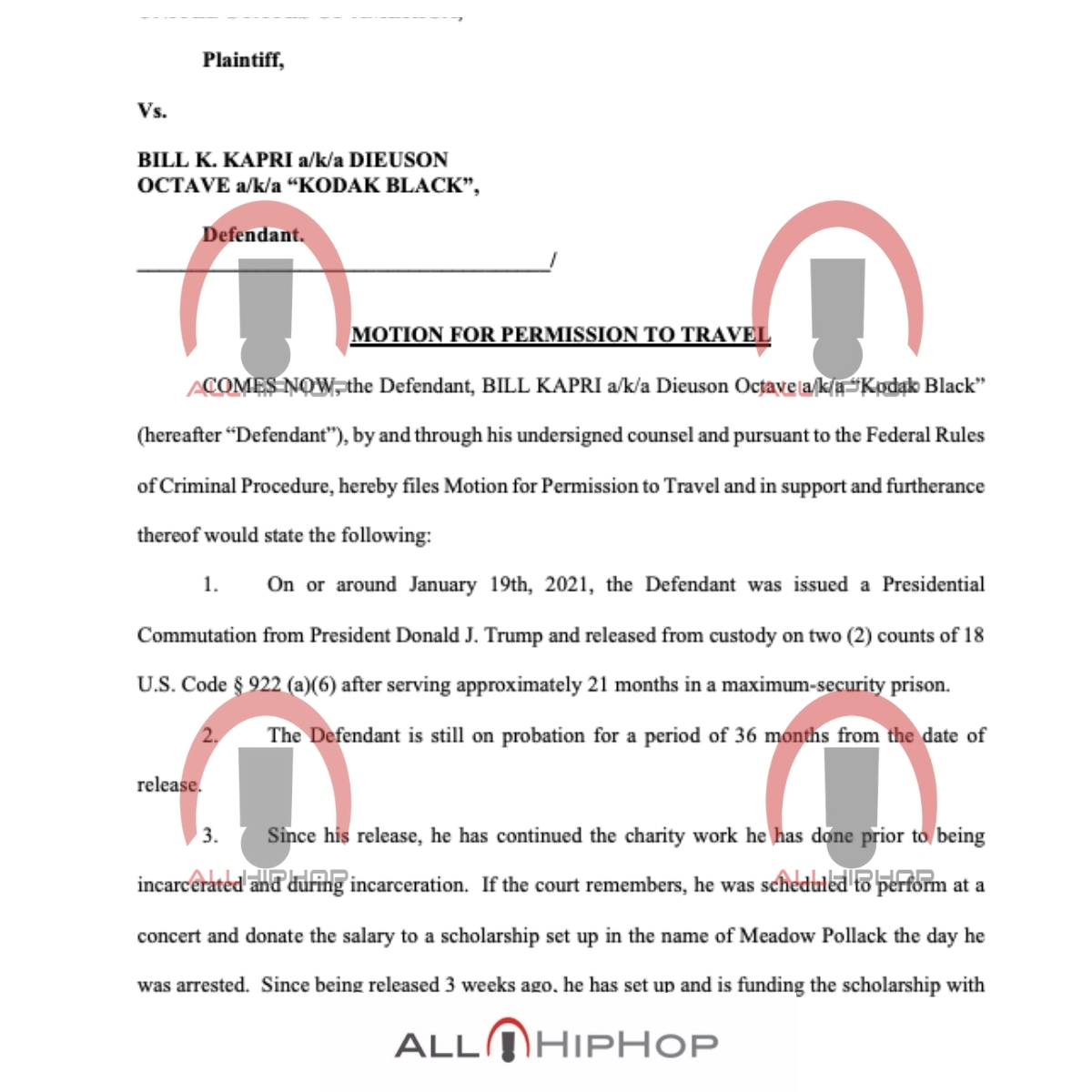 Kodak is also planning to offer up business grants for prior convicted felons, to help them fund their start-up businesses. The rapper isn't just talking either. 
Since his pardon, Kodak Black has established a $100,000 scholarship at Nova Southeastern Law School in honor of Meadow Pollack, who was killed during the mass shooting at Marjory Stoneman Douglas High in Parkland, Florida in February of 2018.
Kodak is also footing the bill for the college education of three of the children of two FBI agents, who were killed on February 2nd, as they served a warrant on a sexual offender.
Now, the rapper is allowed to hit the road in order to generate the income he needs to execute his plans. 
"In order to continue to do the charity he is committed to do; we are asking for the courts permission to be able to travel the United States for work purposes only," Kodak's lawyer Brad Cohen explained. "This travel is for business that Mr. Kapri is being compensated for and not for purposes of personal entertainment."
On another positive note, Kodak Black is currently enrolling in higher education courses.