Lil Baby has spoken out after a video surfaced online claiming to feature the rapper engaged in a sex act with another man. 
The Atlanta native was trending on Sunday (October 22) as users on X (formerly Twitter) circulated the explicit clip, alleging Lil Baby was the man in the video. Some also suggested James Harden, who is good friends with Lil Baby, was the second person in the clip.  
The internet had a field day with the video, with people sharing memes and roasting the rapper.  
The "Detox" hitmaker soon caught wind of the rumors and took to social media to respond, denying he's the man in the video and claiming he's being used for clout. In an Instagram post Sunday night, Lil Baby slammed the "sick" rumors and said the video is clickbait.  
"Y'all gotta stop using my name and likeness when y'all get bored," he began. "Then the extremes mfs go to for clout is sick!! Ain't no mystery in my history on NO LEVEL."  
He continued, "This my last time addressing any kind of dumb ass click bait Tf is wrong wit y'all." 
Lil Baby signed off with "no flaws -no cap in my raps." 
Check out his post and some of the reactions below.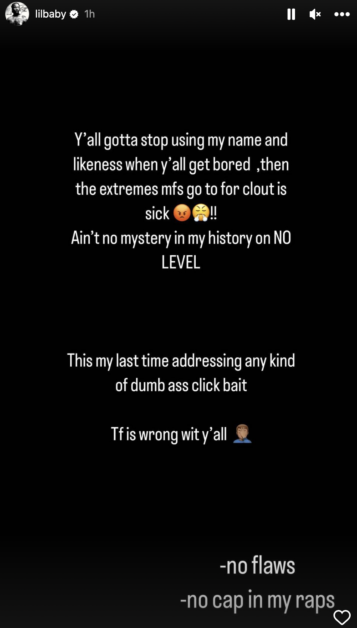 50 Cent Questions Lil Baby's Sexuality
This isn't the first time Lil Baby has been the target of unfounded rumors surrounding his sexuality. Earlier this year, 50 Cent trolled him over a photo he took at Michael Rubin's annual White Party in the Hamptons. Fiddy posted the pic featuring Lil Baby hugging two men, implying he was engaged in a g###### act while taking a shot at Diddy too.  
"See this is why I don't go to no party Puffy and them at. Da f### is going on here?" he penned in the caption. "Get the f## off my young [ninja]. WTF!"