Michael Jackson superfan Offset wants to help push one of King of Pop's most iconic videos to achieve a major milestone. 
The "Jealousy" hitmaker has joined the campaign to get "Thriller" into YouTube's Billion Views Club. The official 4k version of the 1982 video was uploaded onto the platform back in October 2009. The video has racking up over 929,000,000 plays in the 13 years since.  
However, a Michael Jackson fan page on X (formerly Twitter) is making a push to get the nearly 14-minute-long video into the elite club, and Offset wants to help. 
The Migos rapper was trending Wednesday night (September 13), after holding an "Ask me Anything" session with his fans on the platform.  
He caught wind of a post from the MJ fan account promoting a streaming event for the Billion Views campaign.  
"Let's get it to 1 billion," Offset declared.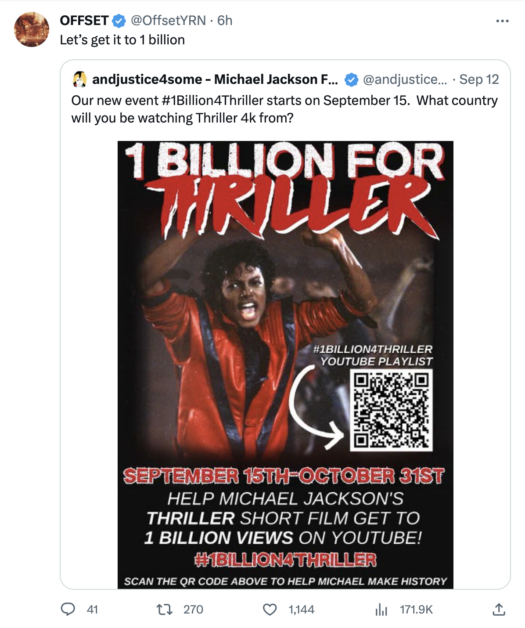 If Offset and the other Michael Jackson stans achieve their goal, Thriller will become MJ's third entry into the elite club. "Billie Jean" was the first to reach the milestone, crossing 1 billion views on YouTube in June 2021. "They Don't Care About Us" followed earlier this year in April and fans are working on making Thriller the third entry. 
Michael Jackson – Thriller
Earlier this week, Offset's wife, Cardi B, revealed her husband's Michael Jackson fandom is interfering with their love life. "I really need y'all to see the Michael Jackson tattoo he got on his stomach," she shared. Cardi then admitted she feels like the tattoo is watching her perform intimate acts.  
Despite Cardi's objections, Offset refuses to get rid of his homage to Michael Jackson.