The surviving members of Run-DMC—Darryl "DMC" McDaniels and Joseph "Rev" Simmons—will perform at a star-studded event celebrating the 50th anniversary of Hip-Hop. According to a press release, Hip Hop 50 Live will take place on at Yankee Stadium on August 11 with headliners Run-DMC, Lil Wayne, Snoop Dogg and Ice Cube. Additional performances include a Queens of Hip-Hop set with Eve, Lil Kim, Remy Ma and Trina with more to be announced.
T.I., Fat Joe, Common, A$AP Ferg, EPMD, Ghostface Killah, Lupe Fiasco and Slick Rick are also scheduled to perform along with a "Pillars of Hip-Hop Set" with DJ Kool Herc, Cindy Campbell, Grandmaster Caz, Kurtis Blow, Melle Mel, Roxanne Shanté, Scorpio, Sugar Hill Gang. Battlecat, Clark Kent, Mannie Fresh and Marley Marl will be on the decks as well.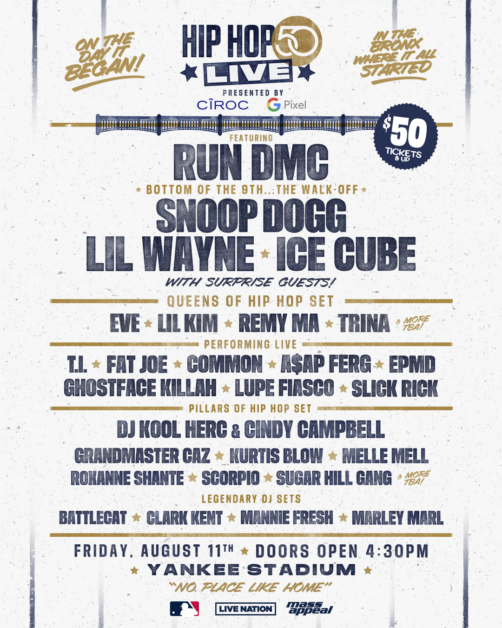 The Run-DMC reunion is particularly special considering they rarely play together anymore. Speaking to Rock The Bells in January, DMC said, "Run-DMC is over. The only way Run-DMC gets back together is if The Beatles get back together. Can that happen?"
But, in what's been dubbed as "Bottom of the 9th…The Walk Off," it's likely the duo's last show.
"I am honored to hit the stage in the Bronx, the birthplace of Hip Hop and celebrate all of my heroes," Run said, while DMC added, "August 11 is Hip Hop's 50th birthday! So…'Up in the Bronx' where it all started we will be celebrating this historic moment in history! I am honored to pay tribute to the culture that allowed this little shy kid from Queens to grow up and become The Mighty King of Rock! Thank you Hip Hop!"
Pre-sale tickets go on sale beginning June 8 at 10 a.m. EST. General admission tickets will go up on June 9 HERE. Hip Hop 50 Live at Yankee Stadium tickets will start as low as $50.