A rapper who was 11-years-old when he gained notoriety for dissing SpaceGhostPurrp has passed away.
Lil Shark engaged in one of the most bizarre beefs in rap history back in 2014, after a feud between him and SpaceGhostPurrp attracted headlines.
Issues between the pair started after SpaceGhostPurrp heard some of Lil Shark's music, and branded the Augusta, Georgia native's music as being wack. SpaceGhostPurrp asked his fans to help him have the youngster's music removed from SoundCloud for being so trash.
Lil Shark responded in kind with a diss track to SpaceGhostPurrp. He also managed to hack SpaceGhostPurrp's website and post the artwork for his mixtape "The Shark Tank."
According to Lil Shark's older brother, the rapper, who would have turned 18-years-old on January 20th, 2021, died unexpectedly. An official cause of death was not revealed, but sources said Lil Shark, born Brent Garner, committed suicide on Monday (January 4th).
This is Lil Shark's older brother.

My baby brother Brent, aka Lil Shark, passed away today. The best brother I could have asked for. I can only hope your pain is over with now and you're in a better place. I love you so much and I will miss you more than anything. ❤️ pic.twitter.com/E1CiR2pWRr

— ripkarter (@ripkarter) January 5, 2021
"Brent was a wonderful son, brother, and friend who touched the lives of everyone around him," his dad said on a GoFundMe page raising money for Lil Shark's funeral. "We are all devastated by this loss and were not prepared for the high cost of a funeral service. We want to give Brent the memorial he deserves, to honor his last memory and say our final goodbyes."
Almost 7 years later, SpaceGhostPurrp still holds a grudge against Lil Shark. The Raider Klan founder got wind of Lil Shark's death and made fun of his passing in some unsavory tweets.
Some users were obviously offended by SpaceGhostPurrp's comments, but he did not back down.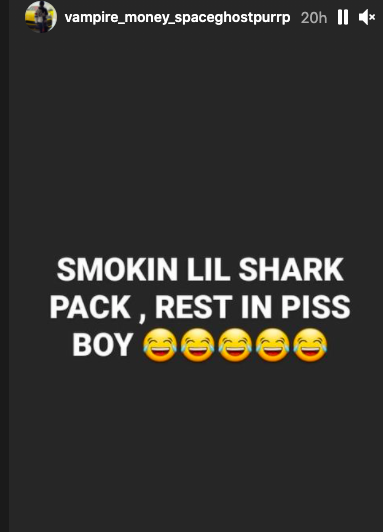 https://twitter.com/VampireMoneySGP/status/1346618032781668353?s=20
https://twitter.com/VampireMoneySGP/status/1346392723708911616?s=20
Take a look at some of the replies and listen to Lil Shark's 2014 diss record towards SpaceGhostPurrp.