Snowfall.
Franklin.
Now you guys have gotten your fill of "Snowfall." The show, which concluded last week, set off an inferno of commentary from these digital streets. It was absolutely magical, how they captivated the audience with the tale of Franklin Saint. Franklin came to an unfortunate ending. If you don't know by now, you better stop reading immediately.
First of all, what do you guys think ended up being Franklin's fate? Personally, I believe he ended up an alcoholic that succumbed to the weight of his own dreams and capitalistic maxims. A lot of people, at least some that I saw, believe he was also a drug addict. Although he looked terrible, there is nothing that suggests that he was an actual bass head. Quite the contrary, according to what was visually seen in the show, he drank ad nauseam in the show and when goes directly to the liquor store when he was given $20.
But, here is why we are talking right now. There is a spinoff of the hit show in the works right now. And it follows his best friend, Leon and his wife, ironically, who used to be a crackhead. if you remember, Franklin made fun of Wanda when he was going on in a rant. Wanda, played by Gail Bean, is supposedly the lead character in the spinoff series. Her story begins where "Snowfall" ends, basically, at the end of the crack era.
What does this mean?
This also means it begins at the beginning of gangsta rap. Bloods and Crips! Are you might remember in the series finale they had a nod to John Singleton, who was filming his seminal, classic "Boyz-N-Tha- Hood." That means Ice Cube's somewhere in there!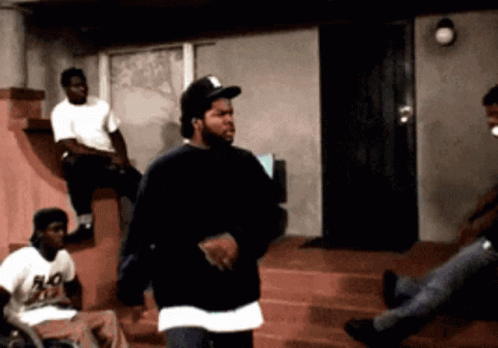 At any rate, there is no release date for this show in development, but you can best believe they are going to do an amazing job. Period, also, I personally believe that they did not make Franklin a drug attic, because he will somehow find a way back into the franchise. They had to leave that door, at least a jar for something else to happen. For example, I believe Franklin's post drug king pin days warrant a movie of some sort. The creators can discuss the struggles and the trials and tribulations of someone that experienced the highest of highs in the drug game, but now must deal with the sobering reality of normal life. And what does that look like?
All of the drug dealer stories that we watched, typically end in total destruction or death. I believe that the ending of snowfall was very, very realistic. Almost anticlimactic. We wanted him to win, for some deranged reason – mainly because he was a Black man trying to escape his conditions. But at the same time, we realize that he had evolved into a complete monster, pushed into the beast of this high stakes "game." And that sort of human being is not permitted to end well.
Anyway, what do you guys think? And are you excited at the prospect of a spinoff?
Lastly, Rest In Peace to the great, great, great John Singleton.