Amber Rose demonstrates what happens when things get way past words. Recently, an interaction between two baddies goes left. Season two of B.E.T+'s, College Hill: Celebrity Edition, showcases a clip of the candid chaos.
So, exactly what could trigger this type of reaction from MUVA? Well, the fisticuffs comes on the heels of an intense discussion on Race. In fact, the Puerto Rican Princess makes some highly salacious allegations.
Amber Rose vs. Joseline Hernandez 🔥 #CollegeHillCelebrityEdition pic.twitter.com/oW9ASUq6th

— Reality Cvnt ✨ (@RealityCvnt) June 8, 2023
Without a doubt, Joseline's blunt delivery undoubtedly rubbed the resourceful Entrepreneur the wrong way. Although, an apology was offered for referring to Amber Rose as "the Whites," it did not resonate. Of course, an intense argument ensues.
"You know what your problem is? Your problem is that you really wanna be a white girl," chides Hernandez. Eventually, the South Philly Socialite retorts, "I can't let nobody bully me like that." Thus far, the entire fight has yet to be aired.
So, there are conflicting accounts of the altercation. Both Joseline and the Strategic Celebrity, go on to expound upon their respective perspectives of the encounter. The outspoken JH insists, "Somebody tried to attack me. And, I put their muthafucking head through the muthafucking glass."
Joseline describes her fight (in an ASU Literature class) with Amber Rose and why it happened
🔗: https://t.co/xSdnPmRCQD https://t.co/JWyhf11Vu9 pic.twitter.com/NCXUe4qTfn

— Glock Topickz (@Glock_Topickz) May 28, 2023
On the other hand, the Celebrated Content Creator delves deeper into her feelings about being of mixed racial heritage. Via an achieved Instagram post, she seemingly confesses her angst.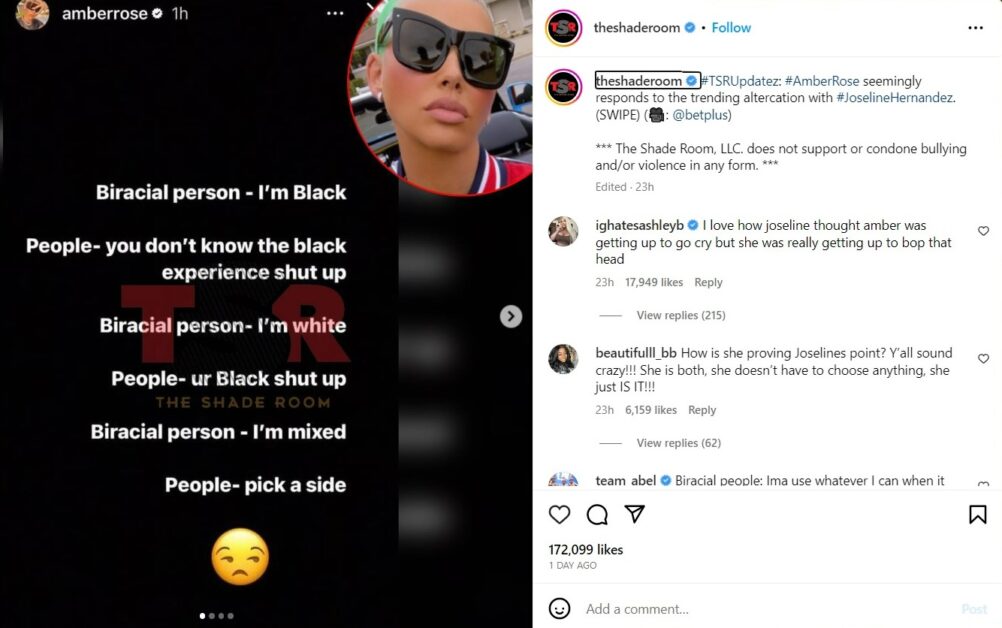 Is she wrong for taking off on Joseline?