Here is some random BS from all over.
Kodak Black Goes To Court, Smiles for The Cameras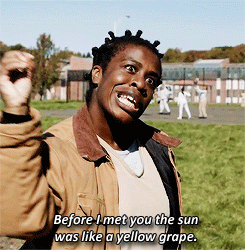 I don't know what Kodak Black is in court for. I just know he looks like that chick on "Orange Is The New Black." Maybe that can call it, "Orange Is The New Kodak Black" now? Ok, I'm done.
https://www.instagram.com/p/BMiJq-GDyPy/
Chuck D And The Impossibulles Are CAPING For Bernie!
"Bernie Got Berned" – uh oh! When Chuck D talks you have to listen. At first, I was like "WTF," because the video is so low budget. But then I listened to the message and it was some of the realest bars I have heard all year! Go, Chuck! Damn, Bernie. I thought we were going to do it.
Dave Chappelle Explains Why He Is Not A Trump Supporter
The media is on some BS! We were too for a second, since we repurposed somebody else's BS. We fixed it though! Anyway, it was a Trump-supporter site that wrote it in the first place. We should be ashamed!