Sexyy Red is taking over the planet—and that is scary! The raunchy rapper has caused a proverbial tidal wave of controversy, but it has nothing to do with lyrics. The chatter about Sexyy Red assaults our senses for an unexpected reason. I saw it coming last night and it came crashing down this morning.
The artist behind the hit track "Pound Town" turned into a trending topic on Twitter, the social media platform currently known as X, on the fateful night of Wednesday (October 4.) The reason? A private video of an explicit nature had surfaced on her Instagram Stories.
This immediately caused a rumor that she'd unintentionally shared it herself. The video was promptly "removed" but has since traveled all over the internet for everybody to see what is pink and what is brown. Yuck. This is basically a sign that the world is ending because there are so many important things in the world. But, here I am typing about this.
As previously reported, Sexyy Red released a statement suggesting that her account had been compromised. She said, "I'm deeply saddened. Anyone who knows me can vouch for the fact that I wouldn't engage in such foolishness"
We saw Sexyy Red on the carpet at the 2023 BET Hip-Hop Awards, by the way. People were flirting with her on the carpet, and she had to run away from them. She was like "I can't do that on the carpet!" Not those exact words, of course. But she's the life of the party! At the last BET Awards, she was twerking up a storm! She got all the attention. Here is the pic: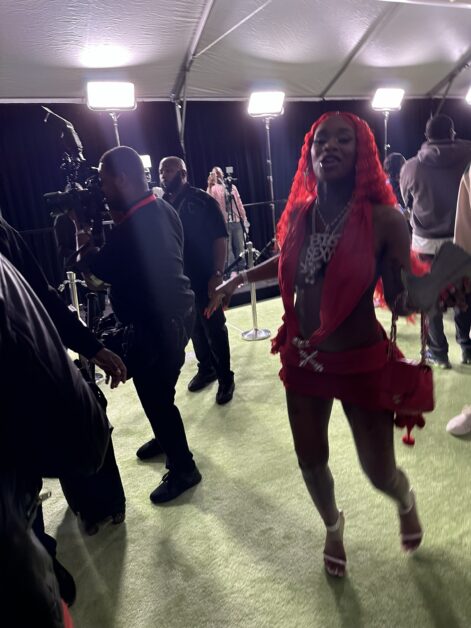 That is her running away from said people on the carpet.
What are your thoughts on Sexyy Red as a force in rap?