Edward Crowe is lucky to be alive. Diagnosed with Gillian Barre Syndrome as a teen—an inflammatory disorder of the peripheral nerves outside the brain and spinal cord—the Nashville-based creative was completely paralyzed from head to toe. In fact, he couldn't even close his eyes. It almost sounds like a horror movie—but this was real life. 
"You have a better chance of getting struck by lightning," he tells AllHipHop. "Your chance of getting it was one in 100,000. My lungs collapsed then I was put on life support all while being completely aware mentally. After months in the hospital, I had to learn to walk again. My mom never left my side. We were both diagnosed with ICU psychosis from spending so long in the ICU and hearing the constant beeping. 
"One moment that sticks with me is when I was finally able to use a walker to get down the hospital hallway with the nurse's assistance, I remember the feeling when I had the strength to let the walker go and take my first step on my own. It was like winning a championship fight. I knew then that I was going to be all good and I was here for a reason. I decided that day that I was going to give whatever goal I perused my all for the rest of my life, and I had the fight in me to do that."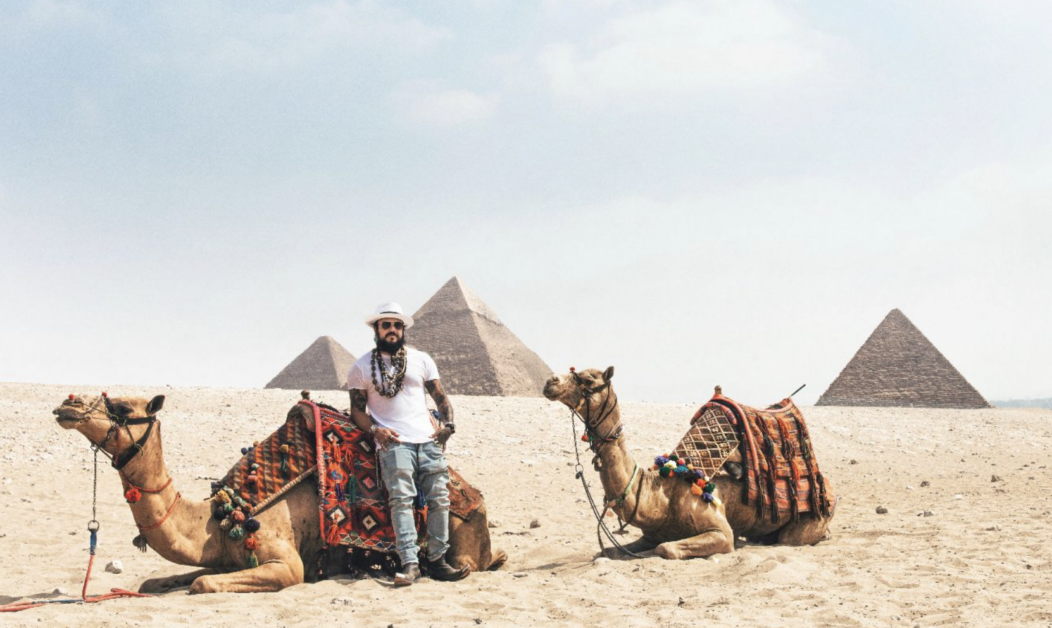 And Crowe has succeeded. Born into a musical household, Crowe quickly developed a passion for the music business—he just didn't know where to get started. His father, a singer-songwriter, wrote a song called "Angels Don't Fly" for George Jones and would frequent all the famous Nashville spots like the Bluebird Cafe and Douglas Corner (now called The 8th Room), which only fueled Crowe's intrigue. But when he discovered Hip-Hop, it felt like he'd found something that was solely made for him.
"My mom listened to everyone from Stevie Knicks to the Mavericks, and my dad would keep Bob Dylan and Leonard Cohen on repeat," he recalls. "I fell in love with Hip-Hop when I was 9. I was at my cousin's birthday party and in the grab bags they were giving kids was a cassette tape of Young MC's Stone Cold Rhymin. I used to listen to Wu-Tang, Big L, Big Pun, Fat Joe and Keith Murray. The list goes on, but it was the East Coast vibe." 
By the time he was 11, he was skateboarding every day while the allure of subculture continued calling him. Through skating, he met some local graffiti writers and began toiling around with different monikers. But Ounze stuck. 
"One night an OG writer from Los Angeles named Tackz gave me the name Ounze because I was a lil dude and he put me down with the legendary AM7 crew," he explains. "A nickname is supposed to be bestowed upon you, and for a guy like Tackz AM7 to name me and train me, I was honored." 
In between scoping out spots, Crowe would freestyle with his friends, a practice that would carry on to his high school lunchroom. As he got older, he considered becoming a full-fledged artist but once he linked back up with his longtime friend Michael Wayne Atha—better known as Yelawolf—he had a change of heart. 
"Wolf came to the studio I had built out with my partner Hecto called The Phoenix Room in downtown Nashville and recorded a song with me, Wolf and Struggle Jennings called 'Satellites,'" he remembers. "I think that's the last time I recorded. I thought to myself, Wolf is the coldest to ever do it, I wanna stand beside him, and I knew I had potential to be the greatest businessman, manager and executive on the planet, but no one takes a rapper serious who is also a manager or executive, so I left the artist side alone and went full speed ahead with the business. That was one of the best decisions of my career." 
Crowe has officially been managing Yelawolf since 2020. But their friendship didn't get him the job—his tenacity did. 
"They usually say it's a bad idea to do business with friends, but we have a special case," he says. "The reason we work so fluently together is because we're the same. We come from the same background and we're both crazy. He's creatively schizophrenic and I'm professionally bipolar. We hustle at the same speed. I'm most proud to have had the opportunity to prove to my boy that I was willing to start at the bottom. I told him at the car wash that I wanted to work with him. I told him 'I know you're not hiring, but I'm just gonna start doing whatever needs to be done from taking out the trash to watching the dogs and I don't need to be paid until you feel it adds up.' Wolf let me get to work. 
"I started selling his merch on several tours, transitioned to tour photographer then tour manager and in 2020, we signed a management agreement in Sweden on the Ghetto Cowboy European tour during the pandemic. I even had to fill in and be the DJ at an event on a private island in the Bahamas because the DJ couldn't get the test in time and we decided we couldn't miss the opportunity. I'm most proud, that of all the artists out there, I have the honor to represent one of the illest, most versatile and most talented artists that Hip-Hop and rock-n-roll has ever seen or heard."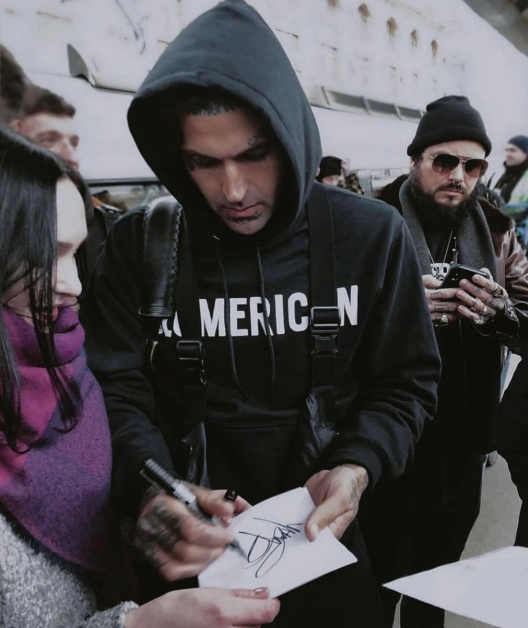 Beyond Crowe's work with Yelawolf, the 42-year-old entrepreneur is buzzing with other creative endeavors. In August 2024, he'll launch a new cigar line called Murder Cigars by Edward Crowe through Yelawolf's Slumerican imprint. He's also putting the finishing touches on his photography book, 51/50 Tour: Photography By Edward Crowe, which chronicles his time on the road with Wolf during the 51/50 Tour in 2017. 
"I was hired to go on Yelawolf's 51/50 Tour as the tour photographer," he explains. "One of my close friends and business partner, Kyro Wolf, is one of the best graphic designers in the business. He had the idea that we should use the images and create a coffee table book. So we collected tickets and VIP passes from every show and got a sketchbook and gave it to all the artists on the tour anytime they were inspired to draw, write or scribble so we could use all that in the book alongside the photos to create a more personal scrapbook vibe."
The book, which Crowe describes as a "labor of love," has been a work in progress for the past six years, but it's finally at the finish line. 
"The end result is iconic and we're very proud," he says. "All design and layout was done by Kyro Wolf and we're very excited to release this to the fans. I feel like it's going to be very special and very well received. One of the most important attributes is that I've been friends with Yelawolf since we were kids so naturally I was given more access than most would have had, which resulted in a much more intimate look into his day-to-day activities on tour. It's very personal and you can feel it."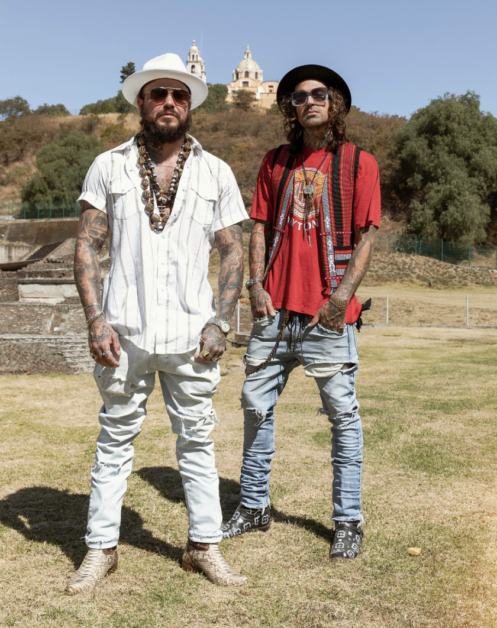 Crowe is a natural teacher, too. He's learned a lot during his four decades on the planet, including how to use psilocybin mushrooms correctly. He's so enamored with them, in fact, he's dedicated a good portion of his time to educating others on its benefits. He's also working on three blends of a mushroom-based nootropic supplement, which he plans to launch in December.
"I used to be a grower and sell a lotta weed—top shelf s### that came in mason jars long before most of it was coming from California," he says. "At one point, I bought a few pounds of mushrooms. My only intention was to sell them and make a profit. I learned real quick that mushrooms weren't something people bought consistently, so I got stuck with a little over a pound. Over time, I ate them and gave some away. I was eating them just to trip out and get stoned.
"One night they made me get sick and when I was washing up in the sink, I turned around and saw what looked like a translucent hole in reality. I saw what looked to me like the Hindu goddess Saraswati. She had several arms and she was dancing with a rhythm so perfect it resembled pistons in an engine. I walked toward her and wanted to go where she was. I received a message that seemed telepathic that if I went in there I would die here. As soon as I felt the fear of dying, the hole closed up and the hallucinations disappeared. 
He continues, "That was the first time I realized there was more to these psychedelic mushrooms, that was my first spiritual experience. After that, I decided to approach these psychedelic states with more caution and learned over time to treat these substances with respect and enter this journey with love and respect as a student. Psilocybin mushrooms have the power to cure addiction, PTSD, anxiety and depression as well as sharpen your superpower and promote change—but it all depends on your intention."
These days, Crowe has a "very ritualistic approach" to taking mushrooms that includes meditation and essentially saying a prayer to the mushroom itself. 
"It's a ceremony for me and I take it very seriously," he says. "I've had life-changing mystical experiences and have relied on this medicine to guide me along my life path and inspire self-improvement. I am an advocate for these mushrooms and I'm thankful for the psychedelic renaissance that's currently taking place. I'm becoming more involved in the psychedelic community and I'm working to be a voice for these plants and fungi as the world unravels the benefits of interfacing with nature." 
Crowe is on another type of journey as of late. On March 28, Crowe's mother passed away, a woman who inspired his creativity and love of photography. While the grief can sometimes be all-consuming, he's moving forward with the confidence she's still with him—just not in the physical sense. 
"She's was an incredible photographer who worked in the dark room and hand colored her black and white photos," he says. "She's my main inspiration in life and photography. She gave me that extra mojo. She always pushed me to leave town to do graffiti. She would take me to trespass and climb on roof tops to 'get the shot.' She encouraged me to chase my dreams and taught me you can be anything you want in this world." She was right. 
Find more information about Edward Crowe here.