Bun B offered a $1,000 reward for the return of a rare poncho emblazoned with the UGK logo earlier this week. But it wasn't missing for long. On Tuesday (March 7), Bun B headed to Instagram with the good news and revealed no reward was needed. Judging by the caption, it sounds like Rap-A-Lot Records affiliated bodyguard Truck managed to track it down.
He wrote: "We have the poncho. Back where it belongs. Didn't cost a dime. @gladiator_truck63 is plugged in to the city like no other. Thanks lil bro!"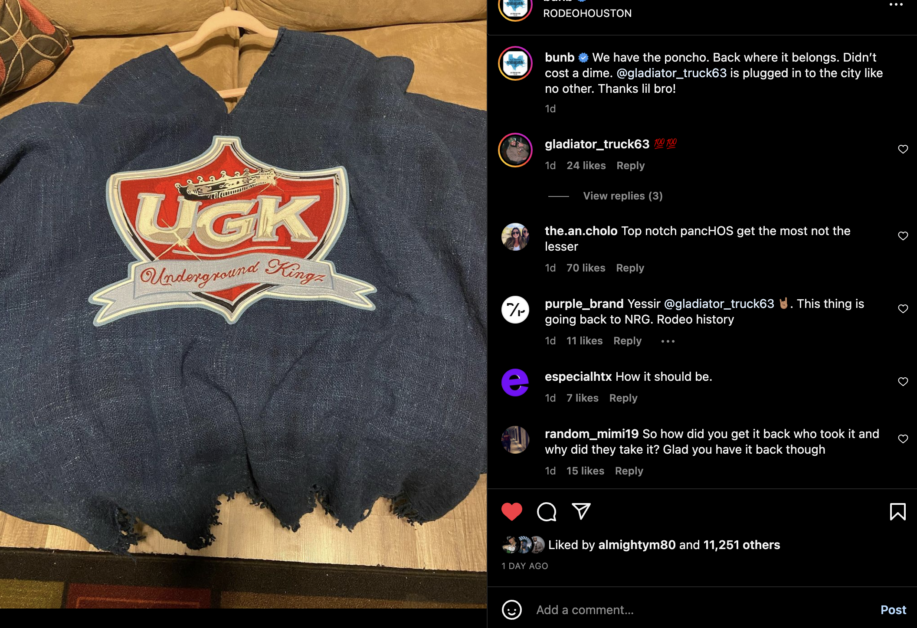 That wasn't the end of it either. Hours later, Bun B shared another photo of himself in the poncho, which he affectionately calls "Poncho Trilla," a nod to Mexican revolutionary Poncho Villa. He continued, "Pancho Trilla has returned! Ready to protect the town from pesky varmints and yellow bellied sidewinders and then ride off into the sunset."
News of the missing poncho first surfaced on March 5 after the Houston legend performed during the Rodeo Southern Takeover at NRG Park on Friday (March 3). He took to Instagram to find it.
"Thee @purple_brand poncho is gone!" he wrote. "We can't find it anywhere! I'm offering a 1k award for it. I don't care who has it. Just get it back to me and take the money. No questions asked. And we will know if it's fake lol." Bun B can rest easy now.