Drake took a walk down memory lane after reconnecting with one of his rumored exes backstage at a show. 
The OVO founder performed at the Barclays Centre Tuesday night (July 18) for the NYC stop of his It's All A Blur tour. Drake met up with a few friends backstage after the show ended, including Bernice Burgos, who made headlines after packing on the public displays of affection with Drizzy back in 2015. 
On Wednesday (July 19), Drake took to his Instagram story with a photo from their link-up. Their encounter had Drake reminiscing about old times and digging through old press photos.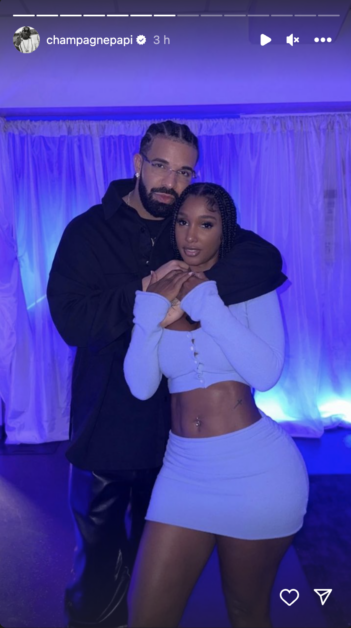 He shared a throwback photo from their 2015 trip to Australia, where photographers spotted the pair hanging out poolside. In the paparazzi pictures, Drake is seen getting very hands-on with Bernice Burgos and kissing her sweetly on the side of the head during an embrace.  
In the image he posted, the "Rich Flex" hitmaker is seen gazingly adoringly at her while relaxing by the pool. Drake captioned the photo "A lifetime ago" with Bernice Burgos alongside a laughing emoji.  
Burgos addressed the rumors about her and Drake a couple of years later during a 2017 appearance on The Breakfast Club.  
"Drake, I'm going to tell you something about Drake. He's the sweetest person ever," she stated. "He's always been good to me and I've always been good to him." 
Drake shared the photo a day after making headlines following a separate backstage meeting with his "rightful wife" Sexyy Red. He shouted out the "Pound Town" hitmaker during the concert, referring to her as his "baby mama."