Chicago rapper G Herbo, born Herbert Wright III, is currently negotiating with federal prosecutors over fraud and identity theft charges.
The rapper and his four co-defendants are accused of participating in a $1.5 million fraud scheme involving stolen credit cards and fake identification to fund a lavish lifestyle.
G Herbo and his associates are accused of targeting four private jet companies, two vacation rental businesses, a limousine service, hotels in Massachusetts, security companies, a limo business, and commercial airlines.
They also purchased food and even acquired two high-end puppies using the rap star's official Instagram account. They ran the scheme from March 2016 until they were busted in December 2020.
G Herbo pled not guilty to the charges and was released on a $75,000 bond. Later, he dropped a track titled "Statement," denying the allegations.
However, the rapper's defense counsel and the government started plea negotiations in May of 2021, and now it looks like G Herbo is getting closer to resolving the legal troubles.
The feds just requested a Rule 11 hearing for G Herbo. A Rule 11 hearing, as outlined by the Federal Rules of Criminal Procedure, is a court proceeding during which a defendant may plead guilty to criminal charges.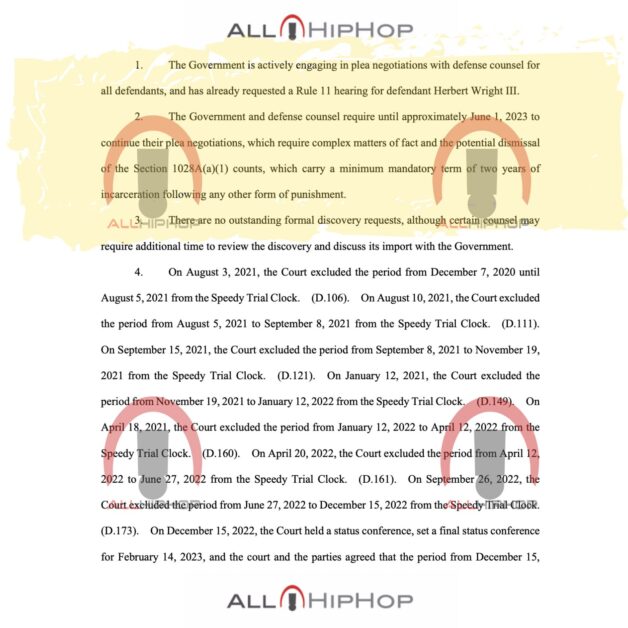 This hearing aims to ensure that the defendant's guilty plea is voluntary and that the defendant understands the charges and the consequences of pleading guilty.
The charges against G Herbo include aggravated identity theft, wire fraud, and conspiracy to commit wire fraud.
With the potential dismissal of the Section 1028A(a)(1) counts, which cover aggravated identity theft and carry a minimum mandatory term of two years of incarceration following any other form of punishment, the ongoing negotiations are particularly complex.
The plea deal, if reached, may help the rapper avoid prison time for the identity theft and fraud charges.
Both the government and defense counsel require until approximately June 1, 2023, to continue their plea negotiations, citing complex matters of fact involved in the case.