Fabolous grew up in the County of Kings during a time when female rappers were heard not just on the radio but also on mixtapes. So when he said the current landscape of music is pigeon-holding women in rap, he might have been on to something.
Over the course of his career, he has hopped in the studios with multiple female rappers, including fellow Brooklynites Lil' Kim and Foxy Brown as well as Missy Elliott and Nicki Minaj.
On Sunday (July 16), Fab wrote on his Instagram Stories, "Love hearing the female rappers talking some real s##t. Women are so strong, [they] have so many stories and perspectives that we need to hear in pure form.
"No disrespect to any of the female rappers out, but I think there's only one style of female rap/hip hop being promoted, programmed, and looked at as successful now."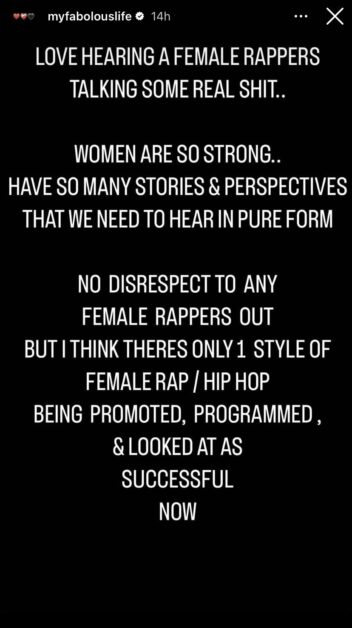 Fans started commenting on his opinion.
"He's on point with this but, that's what's hot right now and as long as people buying it they going to keep selling it. Can't knock the hustle," one Twitter user commented.
While they agreed he was on point, people wanted to see what's next.
"Y'all say this every 3-5 business days promote and support the women you want to see," a young lady wrote.
"Okay can he share some artist he thinks are worth the attention? I'm sure he knows plenty..he could give them a platform rather than low key come for ppl not paying him any mind," another person asked.
He obliged and rattled off names like Tierra Whack, Lady London and Rocky in his Instagram Stories.
One person hit him with, "Thanks for the thoughts gramps."
But Fab isn't hung up on how it was back in the day. He recently dropped a banger with Diddy, A Boogie Wit da Hoodie and Jeremih, representing three generations of rap. Check it out below.