A source close to Jam Master Jay has exclusively revealed more information about the slain DJ's drug supplier to AllHipHop.
Federal prosecutors have charged two men with gunning down the late Run-DMC group member in an alleged dispute over a drug deal involving 10 kilos of cocaine. 
In August of 2020, Karl "Lil D" Jordan Jr. and Ronald "Tinard" Washington were indicted and charged with murder, for killing the legendary DJ, who had allegedly cut them out of a lucrative drug deal. 
Jam Master Jay, born Jason Mizell, was killed on October 30th, 2002 when two men, presumably Jordan and Washington, armed with firearms, entered his 24/7 Studio in Jamaica, Queens. 
Sources: Gun Man Lived In House Owned By Jam Master Jay, Weapon May Have Been Stolen From House
Witnesses say Washington pointed his firearm at one of the individuals located inside the studio and demanded that the person lay on the floor. Then, prosecutors say Jordan approached Jam Master Jay, aimed his firearm at him, and fired two shots at close range. 
Jam Master Jay was shot in the head as he sat and played video games with another man named Uriel "Tony" Rincon, who was also struck in the leg by a bullet.
Seventeen years ago, AllHipHop was the first outlet to reveal that Jam Master Jay was involved in transporting, and distributing drugs to earn extra money because his earnings as a member of Run-DMC had dried up in the early 2000s. 
Now, AllHipHop can confirm that prosecutors have evidence that Jam Master Jay was securing his drugs from a supplier in the Midwest.
As AllHipHop has previously reported, a source close to Jam Master Jay with intimate knowledge of his activities, revealed that he believed a mysterious figure known as "Uncle" was the DJ's main drug supplier.
The source recently said "Uncle" was based in St. Louis and that he believed "Uncle" was most likely a high-ranking member of the Black Mafia Family.
The source claimed to have overheard conversations between Jam Master Jay and "Uncle," on multiple occasions. The cocaine allegedly provided by "Uncle" was eventually transported in hidden compartments located in Jam Master Jay's luxury vehicles. 
In previous reports, sources told AllHipHop that Jam Master Jay rarely drew attention from authorities, thanks to his fame as a member of Run-DMC.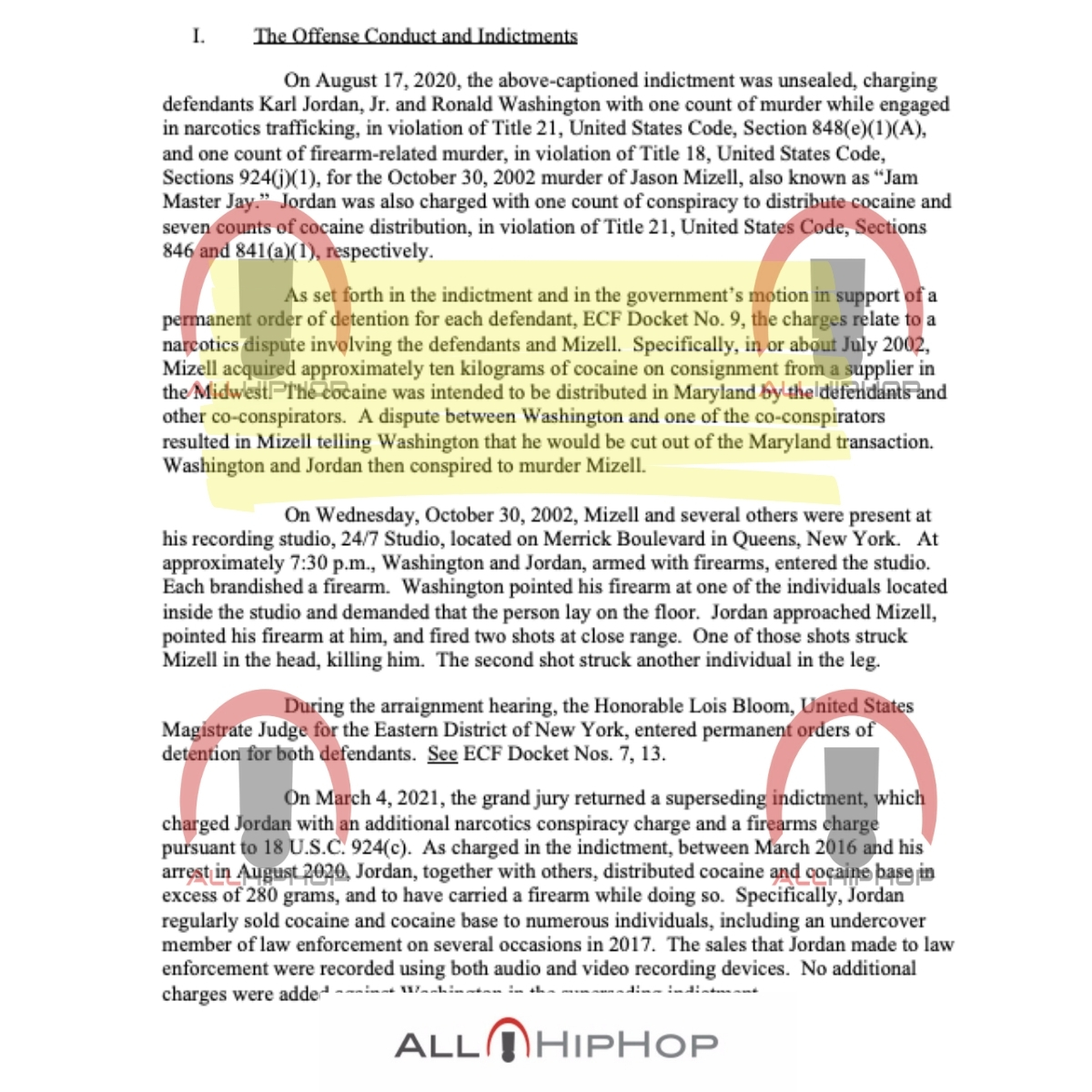 So, In July of 2002, Jay secured 10 kilos of cocaine, which would ultimately lead to his death 3 months later. Jay and other unnamed co-conspirators were planning to transport the drugs from New York, where they were going to be resold in Maryland. 
Prosecutors maintain Jordan and Washington pulled off the brazen murder of the DJ with multiple witnesses present, simply because they have been cut out of a pending transaction.
Last month, lawyers for Karl Jordan Jr. claimed the government had failed to provide him with the basic information he needed to prepare his defense. 
Jordan's lawyer Michael Hueston said the allegations against his client were so general that they "do not advise the defendant of the specific acts of which he is accused."
Earlier this week, prosecutors turned down the request to provide information about informants and witnesses to Jordan. 
Jordan's attorney wanted the government to disclose the names of the informants and witnesses they plan to call at trial, but the Feds do not want to give up the information. 
Prosecutors are worried about witness intimidation, due to Jordan's past criminal activities, as well as Washington's lengthy rap sheet, his fearsome reputation in Hollis, Queens, and the fact that he allegedly admitted to serving as the lookout for the gunman.
"If the man [Washington] says he has something to do with something, you can believe it, and sometimes he can be saying that he has something to do with something because he's trying to take the lesser hand in what n##### are trying to give him," said Jam Master Jay's nephew Boe Scagz, who witnessed the aftermath of the murder in the studio.  
"So if they trying to say you're the n#### that actually shot Jay, he's 'like well I didn't shoot him. I was there, but I wasn't the one that shot him.' Sometimes it could be the truth or it could be him trying to escape the worst…" Boe told AllHipHop in a previous interview. 
The fear of both men is presumably what kept the five witnesses who were present in the studio when the slaying happened silent, for almost 18 years. 
So far, Jordan and Washington are the only two people charged for murdering Jim Master Jay.
Another source maintained the government was offering immunity to people who agreed to testify against the pair, information Jordan was desperately seeking. 
"Such demands are untimely or otherwise inappropriate, especially given the concerns regarding witness tampering and intimidation attendant to the case," said prosecutor Mark J. Lesko, Acting United States Attorney.
Karl Jordan, Jr. and Ronald Washington are charged with one count of murder while engaged in narcotics trafficking. Jordan is also charged with one count of conspiracy to distribute cocaine and seven counts of cocaine distribution. 
Both men could face the death penalty for their involvement in Jam Master Jay's murder.