Macy Gray began trending on social media on Monday evening (Jul. 4) after sharing her thoughts on trans women during an appearance on Piers Morgan's Uncensored.  
"Just because you go change your parts, doesn't make you a woman, sorry," Macy Gray stated. "I know that for a fact." 
Macy Gray On Gender Inclusive Pronouns
The singer also defined a woman as "a human being with boobs" and "a v#####." She also discussed the use of gender inclusive pronouns.
"If you want me to call you a her I will, because that's what you want," Macy Gray stated. "But that doesn't make you a woman, just because I call you a her and you got surgery."  
Social media was awash with conflicting opinions, some sharing her views while others called her transphobic and a TERF – trans-exclusionary radical feminist.  
"Macy Gray is trending," Morgan tweeted, shortly after the episode began to air. "And our interview's only just started," he added before telling his followers to tune in, "to see what all the fuss is about." 
Macy Gray took to Twitter to clarify her comments before the episode could even air.  
"There is no bigger admirer of lgbt community than your truly," she explained. "it takes real balls to be honest about who you are."
She also said, "'woman' is a title that you earn and become. just like 'man.' there are plenty of females who aren't women yet and every girl gets that."  
The "I Try" singer further confirmed that she's speaking from personal experience and was referring to all women in general and not trans women specifically. 
"i wasn't defining trans women. just women," she said in response to a comment which was since been deleted. "Because i know what it means to be one. i don't know what it means to be a trans woman and never said i did. but that goes both ways."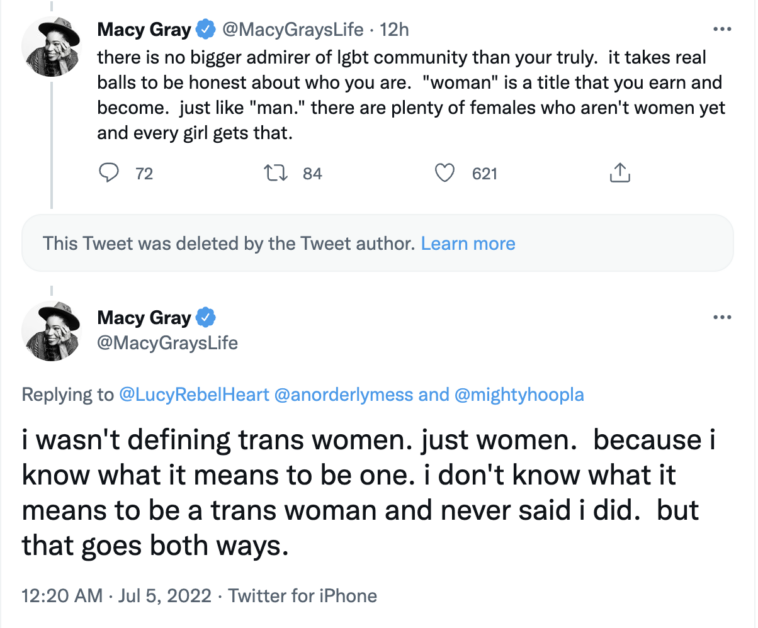 Check out some of the reactions on social media below.