Spotify has been commemorating the 50th anniversary of Hip-Hop culture by presenting lists of the most streamed rap artists, albums and songs on the platform.
For the 50 Most Streamed Rap Songs tally, Texas-raised rhymer Post Malone's "rockstar" featuring 21 Savage sits at No. 1. Canadian superstar Drake came in at No. 2 with "God's Plan."
The late XXXTENTACION held two positions in the Spotify list's Top 5. "Sad!" took No. 3, while "Jocelyn Flores" made it to No. 5. Travis Scott's "goosebumps" came in the middle of those two songs at No. 4.
Lil Uzi Vert ("XO Tour Llif3"), Kendrick Lamar ("HUMBLE."), Travis Scott ("SICKO MODE"), Post Malone ("Congratulations" featuring Quavo) and Eminem ("Lose Yourself") rounded out the Top 10.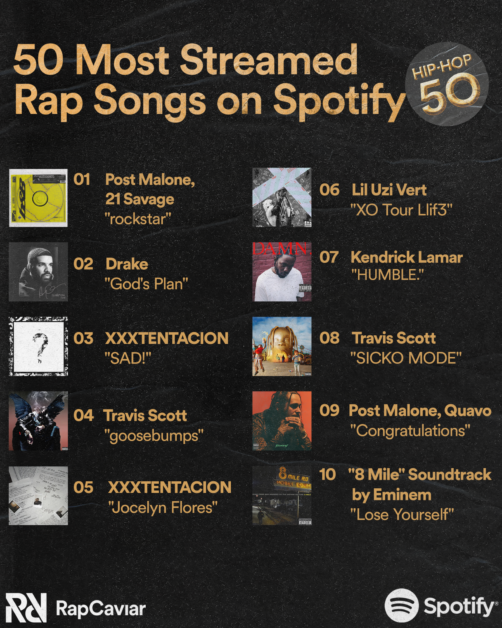 XXXTENTACION placed eight tracks on Spotify's 50 Most Streamed Rap Songs playlist. Seven Eminem tracks also pulled in enough streams to make the Top 50. Drake made the list five times.
"WAP" by Cardi B featuring Megan Thee Stallion (No. 35) is the only song on the list released by a female act. Offset, Cardi's husband, has two Top 30 entries: "Taste" with Tyga (No. 27) and "Rick Flair Drip" with Metro Boomin (No. 32).
Coolio's "Gangsta's Paradise" featuring L.V. is the oldest song on Spotify's 50 Most Streamed Rap Songs rankings. That 3x-platinum single from the Dangerous Minds soundtrack dropped in August 1995.
Previously, Spotify named Drake as the all-time most-streamed Hip-Hop artist on the service. Dr. Dre's "Still D.R.E." featuring Snoop Dogg earned the streamer's title for the greatest Hip-Hop beat in history.