UPDATE:
The news section is so on-point. I did not even see, but they actually settled the situation out of court. Read up on it in the link below.
The old stuff is below.
I saw this and was like "OH."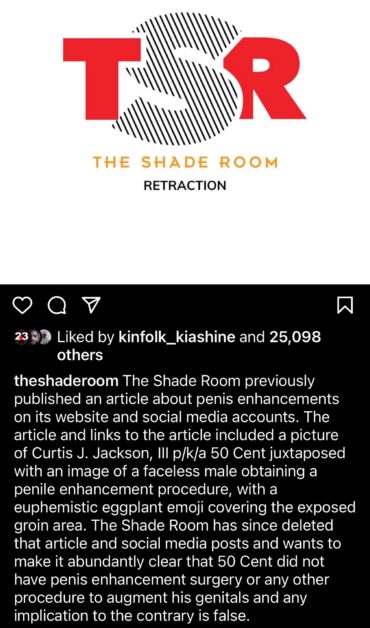 I do not think I have ever seen such language from The Shade Room ever. We all know 50 Cent is not to be played with! He's got a team of hitters on just about every level. If you fk around, you will, in fact, find out. That said the language on a previous post probably suggested strongly or stated explicitly that 50 Cent had some sort of enhancement in the p##### area. This simply did not happen and we have reported on it rather extensively.
Anyway, here is what it said:
The Shade Room previously published an article about penis enhancements on its website and social media accounts. The article and links to the article included a picture of Curtis J. Jackson, Ill p/k/a 50 Cent juxtaposed with an image of a faceless male obtaining a penile enhancement procedure, with a euphemistic eggplant emoji covering the exposed groin area. The Shade Room has since deleted that article and social media posts and wants to make it abundantly clear that 50 Cent did not have penis enhancement surgery or any other procedure to augment his genitals and any implication to the contrary is false.
Hopefully, all parties work it out. I know The Shade Room is a black-owned business and 50 Cent deserves respect. This could have been a warning and they needed to do a straight up retraction to prevent it from going the legal route.
Let me know what you think in the comments.