Metro Boomin was the most successful rap act on the Billboard 200 album chart over the last eight months. However, Lil Uzi Vert's Pink Tape is presently the most popular album in the United States.
Pink Tape debuted at No.1 on the most recent Billboard 200. Lil Uzi Vert brought in more thtan 167,000 first-week units for his latest body of work. The 87-minute project became the first rap release to top the Billboard 200 in 2023.
Metro Boomin took to his Instagram Stories to congratulate Lil Uzi Vert on ending the Number One drought for Hip Hop artists. 2022's Heroes & Villains by Metro was the last rap-based album to top the Billboard 200.
While reposting a Chart Data tweet about Lil Uzi Vert earning Hip Hop's first chart-topper since Heroes & Villains last December, Metro Boomin simply added a [handshake emoji] to his Monday afternoon (July 10) post on Instagram.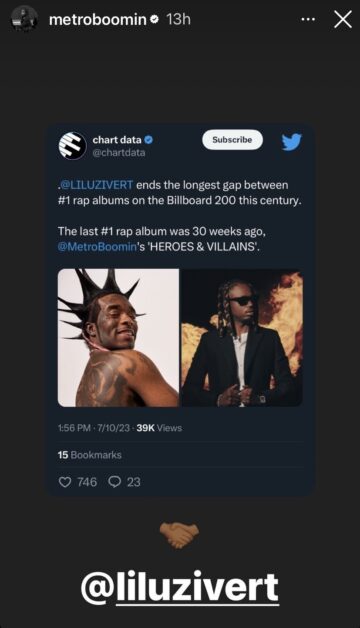 Heroes & Villains opened at No. 1 on the Billboard 200 with over 185,000 total album-equivalent units in its opening week. That chart placement gave Metro Boomin his third No. 1 following 2018's Not All Heroes Wear Capes and 2020's Savage Mode II with 21 Savage.
Metro also made it into the Billboard 200's Top 10 with a 2023 release. His Spider-Man: Across the Spider-Verse soundtrack peaked at No. 5 in June. The compilation featured Lil Uzi Vert, 21 Savage, Future, Lil Wayne, Offset and many more.
Lil Uzi Vert also has three additional No. 1 projects in his discography. In addition to Pink Tape in 2023, Luv Is Rage 2 led the Billboard 200 in 2017. Eternal Atake spent two weeks atop the album chart in 2020. His Pluto x Baby Pluto joint project with Future landed at No. 2 that same year.