Drake has had to deal with homosexual jokes and allegations throughout most of his career. One of his latest moves re-ignited those sentiments, with some social media users seriously questioning his sexuality.
Images of Drake with pink-painted nails sparked heated conversations online. Critics called the Canadian superstar "gay," "feminine," and "corny" for his colored manicure. Even accused sex trafficker Andrew Tate reacted to Drake's nail polish.
Lil Yachty has been one of the most high-profile people to weigh in on the fingernails topic. Yachty, a longtime unisex nail paint enthusiast, chose to playfully troll his "Oprah's Bank Account" collaborator about the situation.
Over the weekend, Drake did a photo dump on Instagram that included pictures from his ongoing tour with 21 Savage. Then Lil Yachty jumped into the comment section to post, "Boy got them heavy hangers in his ear."
In response, Drake wrote, "@lilyachty GET OUT MY COMMENTS YOU TOLD ME TO PAINT MY NAILS SO [I'D] STOP BITING THEM AND NOW THE WORLD IS BEING HOMOPHOBIC FOR THE 1st TIME SINCE RICH FLEX… which wasn't that long ago now that I think about it… wait is the world homophobic? Smh."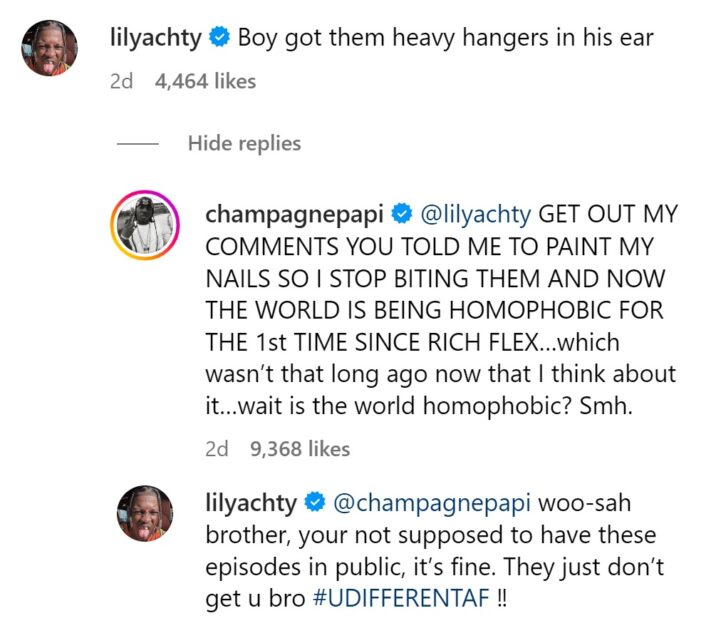 The collective internet clowned Drake for his chorus on the "Rich Flex" track off the Her Loss collaborative album alongside 21 Savage. "21, can you do somethin' for me? Can you hit a lil' rich flex for me?" became a meme that centered around the "Sassy Drake" character.
Lil Yachty returned to Drake's Instagram comments. He offered the 5x-Grammy winner some advice by posting, "@champagnepapi woo-sah brother, your not supposed to have these episodes in public, it's fine. They just don't get u bro #UDIFFERENTAF‼️"