Bronx-bred rapper Lil Tjay released his third studio LP, 222, on July 14. While celebrating 222 making it into Apple Music Top Album Chart's Top 5, it appeared Tjay shaded Atlanta rapper Gunna.
According to reports, Lil Tjay posted a screenshot of Apple Music's five most popular projects to his Instagram Story over the weekend. 222 landed at No. 5 on those rankings.
King Von's posthumous Grandson led the chart at No. 1 with Rylo Rodriguez's Been One taking the No. 2 spot. Taylor Swift held the No. 4 position with Speak Now. Gunna's A Gift & A Curse sat at No. 4.
Instagram users would have been unable to see Gunna's name or the name of his album on the IG post because Tjay placed a face with monocle emoji (🧐) over the southerner's cover art.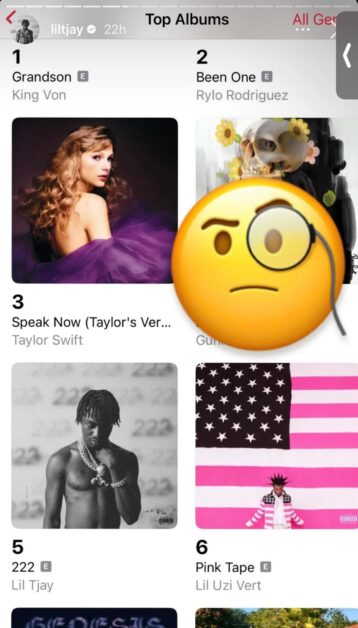 Has Lil Tjay Joined Other Rap Stars Who Took Issue With Gunna's Plea Deal?
Several Hip Hop artists, such as Lil Durk and Boosie Badazz, ostracized Gunna for pleading guilty to a racketeering charge in the Georgia RICO case against Gunna's Young Stoner Life Records label boss Young Thug.
Critics accused Gunna of "snitching" and "ratting" after he admitted in open court that YSL is a gang. There was widespread speculation that other rap stars took issue with Gunna's decision and he would be blackballed from the industry.
Even as Gunna fights off the snitch label, the 30-year-old rhymer continues to find success on the Billboard charts. For example, "Fukumean" broke into the Hot 100's Top 10, giving Gunna his first solo entry in that region. A Gift & a Curse opened at No. 3 on the Billboard 200.
222 joins a Lil Tjay album discography that also contains 2019's True 2 Myself and 2021's Destined 2 Win. Both of those Platinum-certified projects peaked at No. 5 on the Billboard 200 chart. The State of Emergency EP topped off at No. 31 in 2020.