Antonique Smith – her debut single is nominated for a Grammy award and getting people's power back.
Positioning herself as a representation of female confidence and unconditional love, actress and vocalist Antonique Smith has quietly plotted her plan to surface onto the music scene, and now finds herself on the recently released Grammy Awards nomination ballot for Best Traditional R&B performance with her debut single, "Hold Up Wait A Minute (Woo Woo)" from her forthcoming debut album Love Is Everything via independent label 9:23 Music Group.
Just to re-iterate: the debut single for her debut album, which doesn't drop until the top of 2015 under an independent label, is nominated for a Grammy award.
A great achievement indeed.
Antonique Smith is perhaps best known for her role as Faith Evans in the 2009 Biggie-tribute "Notorious" movie, where she earned high recognition and favorable reviews. She starred in the 2011 indie drama "Yelling To The Sky" and earned a role in "Abduction" in the same year. The 31-year-old was more recently acknowledged for her lead role on Broadway as Mimi Marquez in "RENT". But her connection with 9:23 Music Group led to a relationship with a gentleman by the name of Darryl Farmer, Antonique's manager/producer, who imagined the initial sound for her debut single to the world. She explained.
"I was on the airplane with Darryl. He heard the track in his head and he was trying to describe it to me as James Brown meets today's 808's. I was like okay that sounds dope! And then when he actually played me the track a few weeks later, I was like oh my God, crazy."
Completely unaware at the time, this was the birth of a Grammy-nominated record. She described how the concept of the record came about, which is always fascinating to hear not just how the concept originated, but how it evolved.
"Then he started asking me about 'hold up, wait a minute' moments. And we all have those. But the one that was my big one, which is not really easy for a woman to talk about, but the guy that I was with, was using my money to see another girl. So hold up wait a minute, that became the line, 'See you're wining her after dining me/But what's crazy is my names on both receipts.' So from there we just wrote out all of the different 'hold up wait a minute' moments and then the song just developed. We almost had like a party when we recorded in the studio, we had a live band, and we invited our friends I was just in the booth kind of performing for everybody. It was one of the best processes of a song I've ever experienced."
The theme, message, and vision for this record derived from those personal experiences as Antonique shared with me, but also from the standpoints of social, cultural, and gender issues.
"We just wanted to get a different message out there… A liberation, to put your foot down record; because the world is having hold up wait a minute moments, Black people are having hold up wait a minute moments, all of this stuff with Eric Garner, Mike Brown, Trayvon Martin, all of that stuff is hold up wait a minute… The Nigerian girls getting kidnapped is hold up wait a minute, the climate change movement that people don't even really know about, that's hold up wait a minute. ISIS is hold up wait a minute. And just even little stuff we go through every day, you can have tiny hold up wait a minute moments. I wanted to have an anthem where people could put their foot down, get their power back, whatever your moment is… Hold up wait a minute."
(Story continued after image.)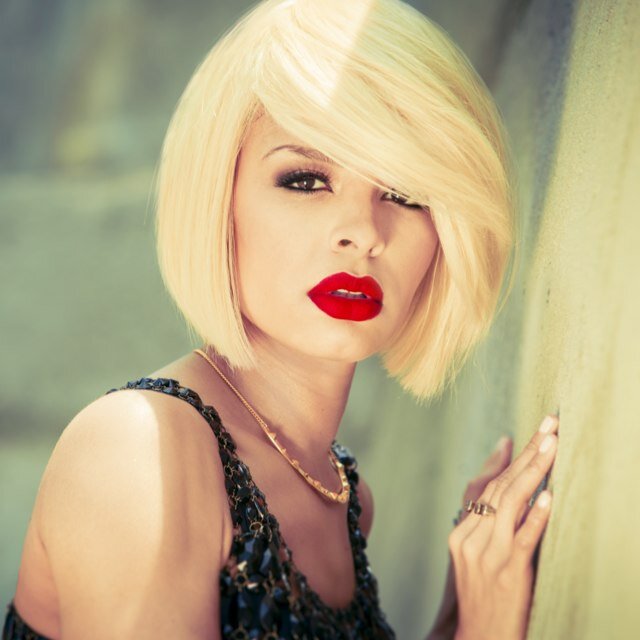 The production of the record brings an up-tempo, soul-funk element to some ferocious vocal range from Antonique, who cites Whitney Houston and Aretha Franklin as her singing influences. The sheer girth and fire of her voice is felt throughout the record amidst a rhythmic bass, drum line, and organ riffs.
Antonique's debut album, Love is Everything, will drop early next year under Farmer's independent 9:23 Music Group label. Production features include Toby Gad (Beyoncé, Fergie), Danja (Justin Timberlake, Usher), Jukebox (Willow Smith, Eve) and Dr. Dre.
Describing her efforts with Farmer and 9:23 as "the little indies that could," Antonique gave a sense of what she intends to represent as an artist going forward,
"I represent true female confidence, and I don't believe true female confidence is the 'I don't need a man', male bashing thing… true female confidence is knowing who you are, knowing your worth, knowing that you're beautiful and you're wonderful and that God loves you, and being able to elevate a man. I believe in relationships we should elevate each other, so in true female confidence there's more of a synergy with men than there is pushing men away… I represent love… I believe love is everything, which is the name of my album! And I just feel like if there was more love in the world than a lot of the issues, I would say all of the issues that we face wouldn't be issues and wouldn't exist if we just had more love… True female confidence, and real, unconditional love."
Antonique Smith's "Hold Up Wait A Minute (Woo Woo) is nominated for the Traditional R&B Performance award at the 57th Annual Grammy Awards in February. She faces the likes of Marshia Ambrosius, Angie Fisher, Robert Glasper, and Kem.