A ring designed by the late Tupac Shakur and worn by the rapper during his final public appearance has blown the initial estimate through the roof, selling for a whopping $1.02 million, Sotheby's announced Tuesday. 
According to the auction house, the sale sets the record for the most valuable hip-hop artifact ever sold at auction and the only one to surpass the $1 million mark.  
Tupac designed the yellow gold crown piece, which is encrusted with 10 carats of cabochon rubies and nearly five carats of diamonds. He had it engraved with "Pac & Dada 1996″ in honor of the rapper's engagement to Kidada Jones, daughter of Quincy Jones.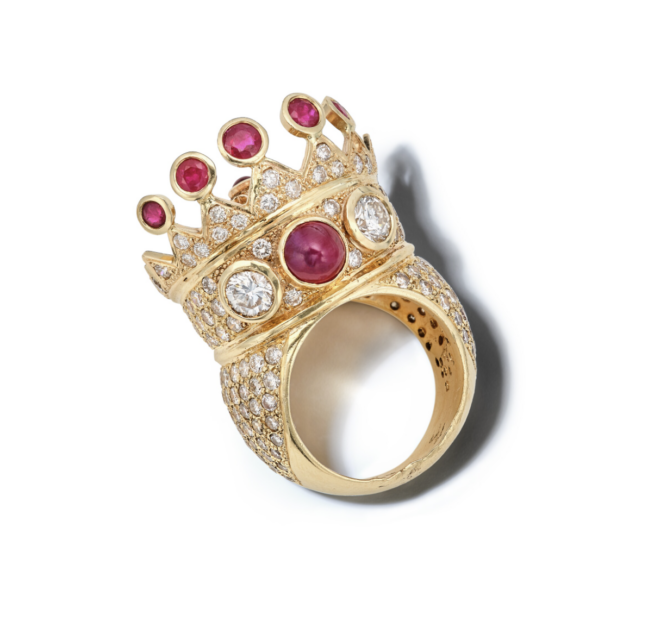 'Pac wore the ring during his last public appearance at the MTV Video Music Awards on September 4, 1996, in New York. Three days later, the rapper was fatally shot, and he succumbed to his injuries less than a week later. He died on September 13 at age 25. 
The bespoke ring was originally expected to fetch in the range of $200,000 to $300,000. However, a wealthy patron decided to splash the cash and spend over $1 million to own the piece. 
Meanwhile, the investigation into the rapper's death could see a possible suspect facing charges nearly 30 years after his passing. Authorities recently raided a home linked to Duane "Keefe D" Davis, the uncle of the prime suspect in Tupac Shakur's murder. Attorneys say it's possible charges can still be filed against a suspect. Nevada has no statute of limitations in homicide cases.