Rapper Young Thug is making his fourth attempt to secure bond as his ongoing trial faces a series of controversies and complications. 
The 31-year-old artist, whose real name is Jeffery Lamar Williams, was first arrested in May 2022 on multiple RICO charges. He has been denied bond three times over concerns about witness intimidation and the prosecution's claim that the rap star's wealth makes him a flight risk.
The rapper has been sitting in the Fulton County Jail because his case has yet to go to trial, and the jury selection process is proving to be lengthy, involving over 1,000 potential jurors.
According to a court document exclusively obtained by AllHipHop.com, Young Thug's legal team has requested reconsideration of bond.
"Since on or about May 9, 2022, Mr. Williams has been languishing in the County Jail without bond. Mr. Williams has previously put forth compelling evidence, without doubt…that conditions can be imposed which permit bond to be set," his lawyer Brian Steel wrote to Judge Ural Glanville.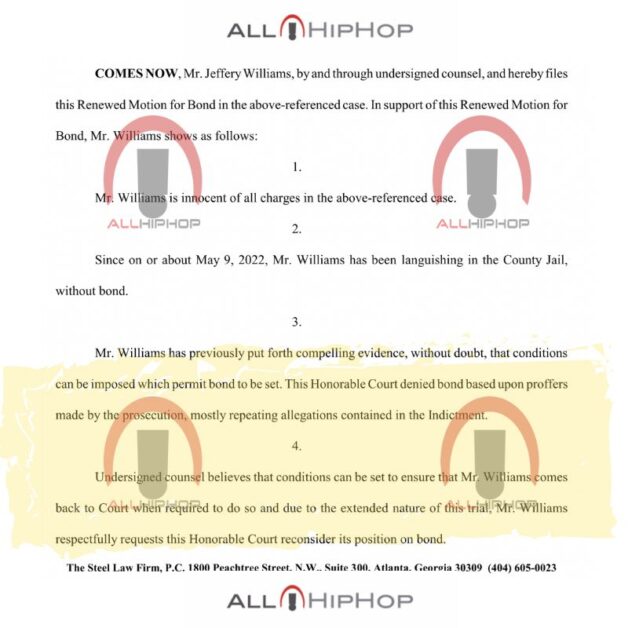 "This Honorable Court denied bond based upon proffers made by the prosecution, mostly repeating allegations contained in the Indictment. Undersigned counsel believes that conditions can be set to ensure that Mr. Williams comes back to Court when required to do so, and due to the extended nature of this trial, Mr. Williams respectfully requests this Honorable Court reconsider its position on bond," Brian Steel stated.
As Young Thug's motion for bond awaits the judge's ruling, the trial has been marred by various controversies, further delaying his day in court and his possible release. 
In January 2023, Young Thug's attorney asserted his client's innocence after prosecutors accused him and one of his YSL RICO case co-defendants of delaying jury selection by swapping drugs in the courtroom.
As if that were not absurd enough, several outlandish incidents erupted in the court in April alone.
Several public defenders selected by the Georgia Public Defender Council to represent three of the 14 defendants in the case asked to be removed from the case, claiming they were underpaid and could make more money at Chick-Fil-A. 
Then, Anastasios Manettas, an attorney representing one of Young Thug's co-defendants, was arrested at the Fulton County courthouse in Georgia for allegedly carrying prescription pills into court and throwing a phone at a sheriff's office captain. 
Earlier that same month, the judge overseeing the trial threatened Young Thug's lawyer, Mr. Johnson, with a 20-day jail sentence if he failed to complete a 17-page essay after being held in contempt of court. 
Additionally, in April 2023, a 21-year-old prospective juror, Juror 1004, was briefly jailed for capturing court proceedings with her cellphone. She was released after apologizing approximately five hours later.
The judge has yet to rule on Young Thug's fourth attempt to be freed from the Fulton County Jail.